MOLECULAR DETECTION OF PUTATIVE MUTANT CLONES OF RODENT TUBER (Typhonium flagelliforme Lodd.) CV. PEKALONGAN USING RAPD MARKERS
Keywords:
Typhonium flagelliforme Lodd putative mutant, molecular detection, RAPD
Abstract
The aim of this study was to derive superior mutant clones of rodent tuber, which has been mutated by gamma ray irradiation. Thirty clones were successfully produced from in vitro putative shoots by using 20 Gy of gamma irradiation. Morphological selection was obtained from 30 clones and 14 genotypes were detected using randomly amplified polymorphic DNA (RAPD). The detection of genetic changes was using 14 primers. There were 7 primers (OPB-18, OPC-05, OPD-20, OPA-02 and OPA-09) had produced the highest number of polymorphic bands. Significant variations were observed in the genetic changes between the control and M14 clone in the size range 100-1650 bp. The phylogenetic analysis showed that the 14 mutant genotypes splits into 2 clusters at a coefficient of 0.67. 3 mutant genotypes with genetic distances closest to the control were genotype M12, M15, and M16 with genetic similarity coefficient values of 0.77 (23% of genetic differences), while genotypes with the farthest genetic distances from the control were genotype of the M14 with genetic similarity coefficient values of 0.63 (37% of genetic differences).
Downloads
Download data is not yet available.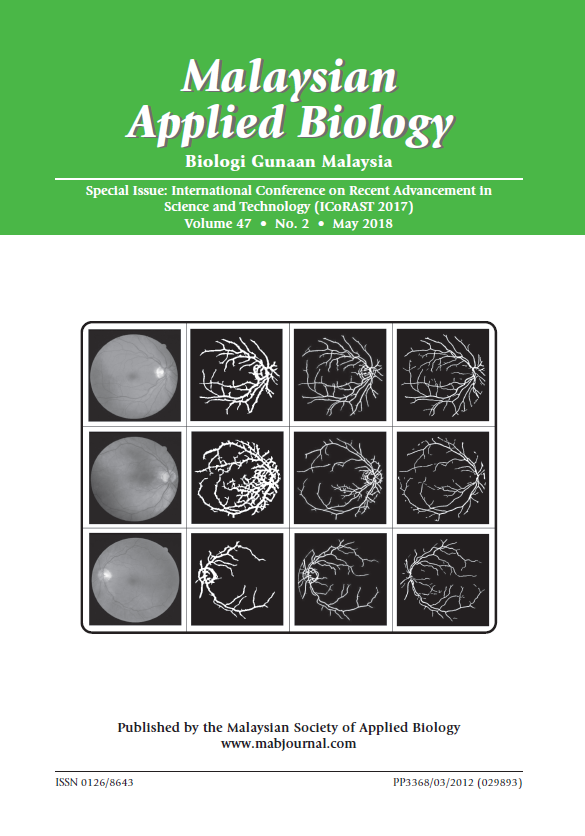 How to Cite
SIANIPAR, N. F. ., & PURNAMANINGSIH, R. . (2018). MOLECULAR DETECTION OF PUTATIVE MUTANT CLONES OF RODENT TUBER (Typhonium flagelliforme Lodd.) CV. PEKALONGAN USING RAPD MARKERS. Malaysian Applied Biology, 47(2), 1–8. Retrieved from https://jms.mabjournal.com/index.php/mab/article/view/1939
Section
Research Articles