CHEMICAL EVALUATION AND ANTIOXIDANT PROPERTIES OF EXTRACTS AND ESSENTIAL OIL FROM Stevia rebaudiana LEAVES
Keywords:
Stevia rebaudiana, chemical evaluation, antioxidant activity, essential oil, bioactive compounds
Abstract
In spite of its prominence as a natural non-calorific sweetener used to replace table sugar, Stevia rebaudiana contains a variety of valuable phytoconstituents functioning as natural food-derived antioxidants with a protective effect against oxidative damage. In this study, leave extracts were screened for their phytochemical compounds and quantified for their total phenolic content (TPC) and flavonoid content (TFC). Qualitative phytochemicals screening shows the extracts were rich in tannin, steroid, alkaloids, coumarin, glycosides, and flavonoids. Interestingly, the highest TFC recovery was found in water extract (84.42 mg QE/g dry weight) while TPC detected showed no significant difference between acetone extract (170.0 mg GAE/g dry weight) and water extract (168.86 mg GAE/g dry weight). The essential oil (EO) was analysed by gas chromatography- mass spectrometry (GC-MS) and revealed thirty one compounds representing 92.85% of the total oils were detected. Some new compounds such as g-sitosterol (1.15%), globulol (2.56%), epiputranjivol (4.69%), betulinic aldehyde (8.30%), and ionone (2.54%) were firstly identified from this plant. Among crude extracts, water extract possesses the highest percentage of radical scavenging activity (% RSA) with IC50 of 3.37 μg/mL lower than standard trolox (5.83 μg/mL). The IC50 of EO was significantly found to be 0.91 μg/mL comparable with standard ascorbic acid (0.51 μg/mL), thus reflecting water extract and essential oil as an excellent antioxidant sources.
Downloads
Download data is not yet available.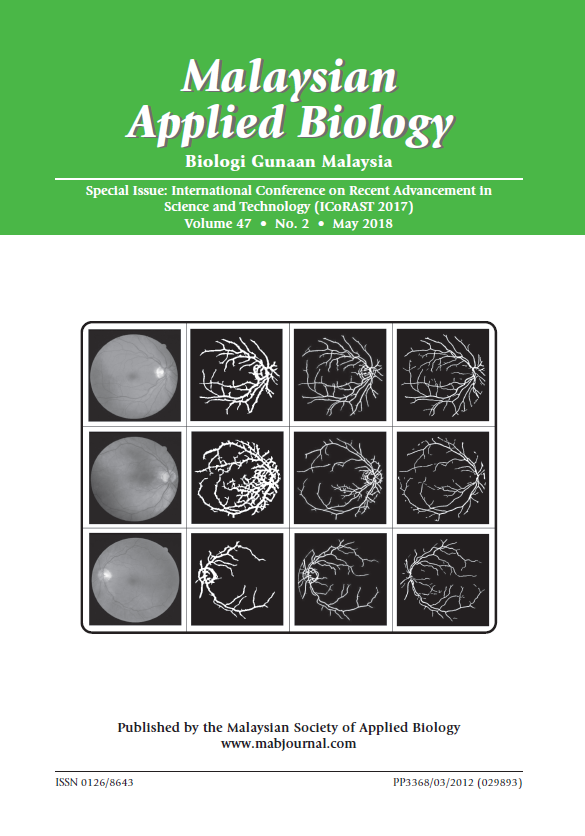 How to Cite
ZAIDAN, U. H., HAMID, S. N. M. ., MAT YUSOF, M. F. ., AHMAD, S. ., ABD GHANI, S. S., & SHAMSI, S. . (2018). CHEMICAL EVALUATION AND ANTIOXIDANT PROPERTIES OF EXTRACTS AND ESSENTIAL OIL FROM Stevia rebaudiana LEAVES. Malaysian Applied Biology, 47(2), 15–23. Retrieved from https://jms.mabjournal.com/index.php/mab/article/view/1941
Section
Research Articles