AUTOMATIC BLOOD VESSEL DETECTION ON RETINAL IMAGE USING HYBRID COMBINATION TECHNIQUES
Keywords:
Automatic, segmentation, retinal, gray-level, moment invariant
Abstract
A blood vessel in the retinal is one of the important organs especially to diagnose diseases such as diabetic retinopathy and glaucoma. In this study, a new method for automatic segmentation of blood vessels in retinal images was presented. The proposed method is based on a hybrid combination between Gray-Level and Moment Invariant techniques. There are consists four stages of processing, (1) preprocessing, (2) feature extraction, (3) classification, and (4) post-processing. The proposed method was compared to the Vascular Tree and Morphological method. Based on the objective evaluation, the proposed method successfully achieved a sensitivity of 98.589% and specificity of 55.544% compared to the others.
Downloads
Download data is not yet available.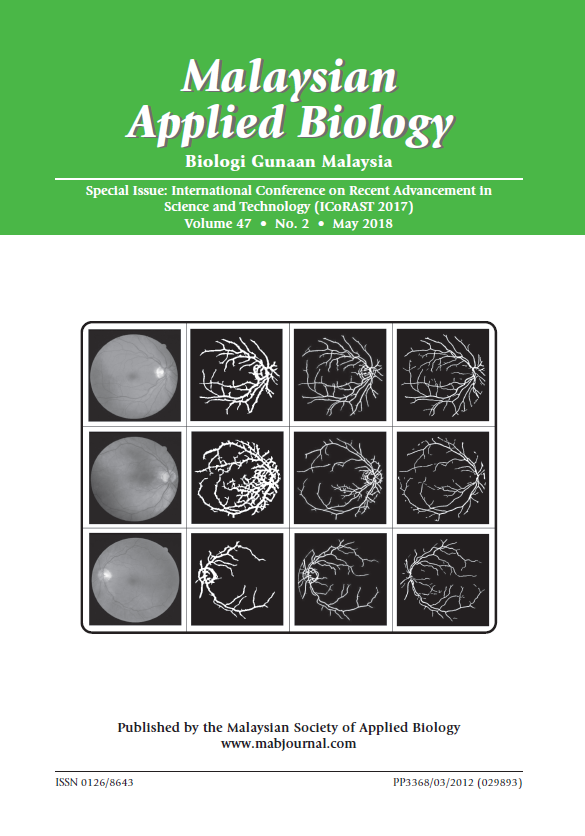 How to Cite
MUSTAFA, W. A., & M ABDUL KADER, M. M. . (2018). AUTOMATIC BLOOD VESSEL DETECTION ON RETINAL IMAGE USING HYBRID COMBINATION TECHNIQUES. Malaysian Applied Biology, 47(2), 47–52. Retrieved from https://jms.mabjournal.com/index.php/mab/article/view/1945
Section
Research Articles