PHYTOCHEMICAL AND ANTIMICROBIAL ACTIVITIES OF DIFFERENT SOLVENT EXTRACTS OF Hibiscus sabdariffa
Keywords:
Hibiscus sabdariffa, phytochemical, antimicrobial activity
Abstract
The use of plant extracts and phytochemicals with known antimicrobial properties is becoming commonplace worldwide and gaining great significance for therapeutic uses. Thus, the purpose of the present study is to investigate the effects of numerous extraction solvents (hexane, ethyl acetate, ethanol) on the phytochemical constituents and antimicrobial activities of Hibiscus sabdariffa. Phytochemical screening for saponins, tannins, flavonoids, phenolic and alkaloid compounds revealed that the ethanol and ethyl acetate extracts of Hibiscus sabdariffa contained all the aforementioned phytochemical constituents, for the exception of tannins and alkaloids that were absent in the ethyl acetate extract. Interestingly, the hexane extract did not afford such constituents. The ethanol extract exhibited stronger inhibitory activity against Bacillus subtilis (B29), Staphylococcus aureus (S276), Staphylococcus epidermis (S273), Pseudomonas aeruginosa (ATCC 15442) and Escherichia coli (E266) than ethyl acetate extract, but the difference was less evident for the hexane extract of Hibiscus sabdariffa which inhibited only B. subtilis, as determined by the paper disc method. Base on the findings, it can be construed that the ethanol and ethyl acetate extracts of HS have prospective applications as antimicrobial agent as well as one of the sources of therapeutically useful products.
Downloads
Download data is not yet available.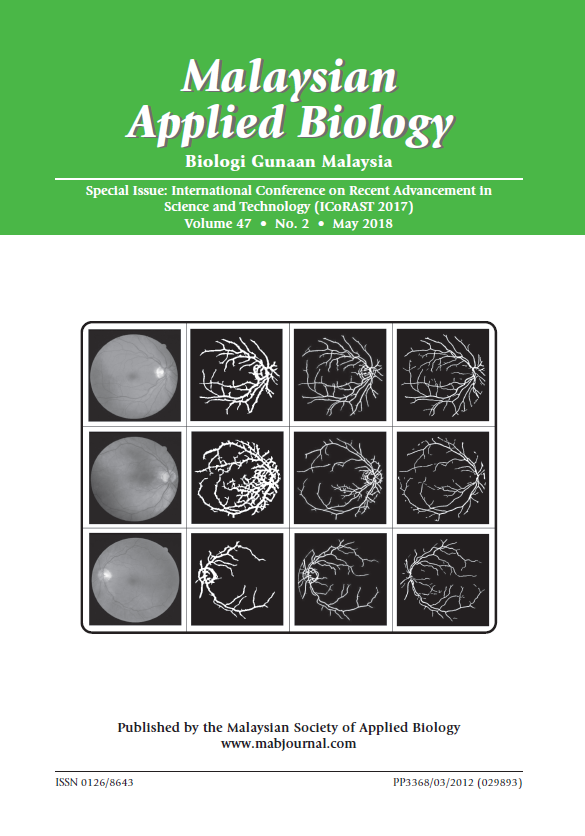 How to Cite
MOHAMAD, N. R. ., ABD GHANI, S. S., ABDUL WAHAB, R., & ZAIDAN, U. H. (2018). PHYTOCHEMICAL AND ANTIMICROBIAL ACTIVITIES OF DIFFERENT SOLVENT EXTRACTS OF Hibiscus sabdariffa. Malaysian Applied Biology, 47(2), 53–56. Retrieved from https://jms.mabjournal.com/index.php/mab/article/view/1946
Section
Research Articles