THE INFLUENCE OF CHEMICAL INTERESTERIFICATION ON THE PHYSICOCHEMICAL AND MICROSTRUCTURAL PROPERTIES OF PALM STEARIN, PALM KERNEL OIL, RICE BRAN OIL AND THEIR BLENDS
Keywords:
Chemical interesterification, mixture design, Design Expert, palm stearin, palm kernel oil, rice bran oil
Abstract
Blends of palm stearin (PS), palm kernel oil (PKO) and rice bran oil (RBO) were formulated using Design Expert 9.0 according to Simplex Lattice Mixture Design. Ten blends with 6 replicates were subjected to chemical interesterication (CIE) and the effects of CIE on the triacylglycerol (TAG) composition, slip melting point (SMP), solid fat content (SFC), polymorphism and microstructure were investigated. Chemical interesterification changed the TAG composition, microstructure and SFC profile of the blends. The polymorphism was not affected except for PKO and its binary blends. Interesterified blends had lower SMP than their respective non-interesterified blends except for PS, RBO and PKO:RBO blends. The optimised PS:PKO:RBO (22:16:62) blend formulated have similar SMP and SFC profile with the commercial soft table margarine.
Downloads
Download data is not yet available.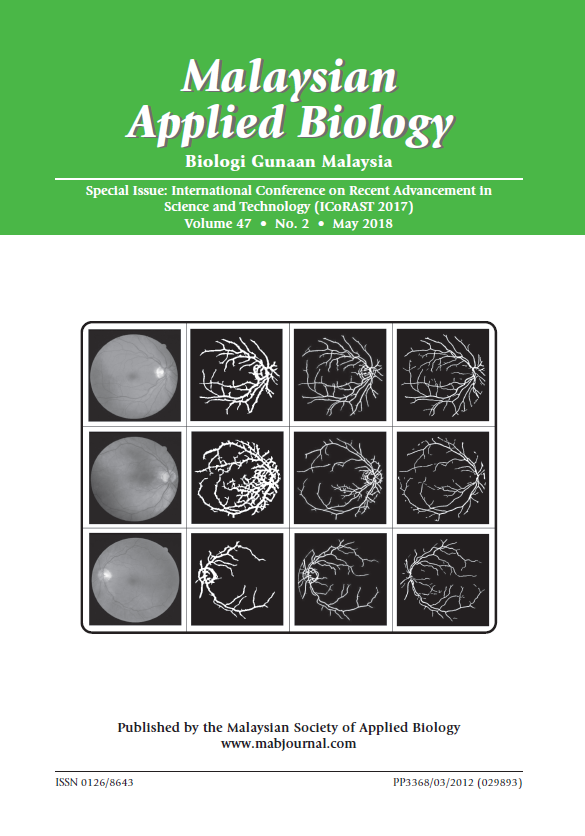 How to Cite
ZUHER, M. A., ABD RASHID, N., OMAR, Z., & AHMAD, N. (2018). THE INFLUENCE OF CHEMICAL INTERESTERIFICATION ON THE PHYSICOCHEMICAL AND MICROSTRUCTURAL PROPERTIES OF PALM STEARIN, PALM KERNEL OIL, RICE BRAN OIL AND THEIR BLENDS. Malaysian Applied Biology, 47(2), 57–69. Retrieved from https://jms.mabjournal.com/index.php/mab/article/view/1947
Section
Research Articles