MALARIA PARASITES SEGMENTATION BASED ON SAUVOLA ALGORITHM MODIFICATION
Keywords:
Algortihm, malaria, plasmodium, parasite, segmentation, Sauvola
Abstract
Malaria is a serious disease caused by a blood parasite of the genus Plasmodium and becomes a leading cause of death in the world, particularly in Africa and South Asia. In general, the conventional malaria diagnosis based on manual microscopic observation under a light microscope will increase the chance of false detection and delay diagnosis process. As a result, many researchers have proposed automated malaria detection based on image processing approach in order to provide prompt detection of malaria parasite as well as increasing the accuracy of malaria diagnosis. This paper proposed a new method based on algorithm modification that has been inspired by the Sauvola's segmentation method. The objective of the proposed method is to improve the Sauvola method and achieve better segmentation results compared to the Feng method, Bradley method, and Nick method. Overall, the results of the numerical simulation indicate that the proposed method is the most effective and efficient (specificity = 99.94% and accuracy = 98.04%) compared to other methods. Hence, the implications of this image analysis would give future research directions for the researchers.
Downloads
Download data is not yet available.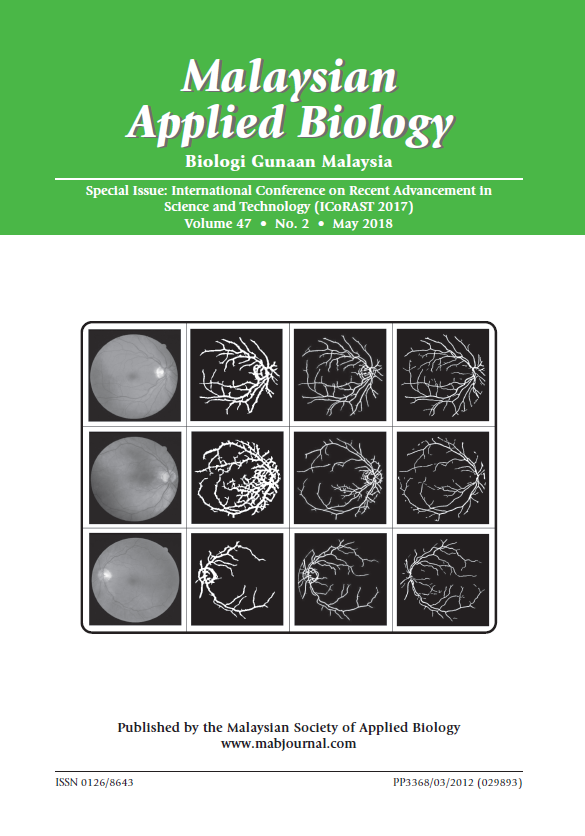 How to Cite
MUSTAFA, W. A., ABDUL-NASIR, A. S., & MOHAMED, Z. (2018). MALARIA PARASITES SEGMENTATION BASED ON SAUVOLA ALGORITHM MODIFICATION. Malaysian Applied Biology, 47(2), 71–76. Retrieved from https://jms.mabjournal.com/index.php/mab/article/view/1948
Section
Research Articles