THE EFFECTIVENESS OF LEMONGRASS (Cymbopogon citratus) OIL AS AN ANTIMICROBIAL ADDITIVE IN KEROPOK LEKOR
Keywords:
keropok lekor, lemongrass oil, antimicrobial additive, shelf life, sensory analysis
Abstract
Keropok lekor is a popular and highly savoured fish product in Malaysia. Keropok lekor has a short shelf life whereby it can be stored at room temperature for only one day. The aim of this study was to develop keropok lekor incorporated with lemongrass oil as an antimicrobial additive. In this study, keropok lekor were incorporated with lemongrass oil at different formulations: 0.8%, 1.2%, and 0% (control). The microbiological analysis (total plate count, yeast and mould, and coliform count) were conducted for samples stored at room temperature (25±2°C) for four days. The moisture content and sensory analysis were also evaluated. The results showed that the keropok lekor made using 1.2% lemongrass oil had significantly longer shelf life (4 days) when compared to control (1 day). In addition, significant reduction in total plate count, yeast and mould count, and moisture content were observed in this formulation (p<0.05). There were no coliforms detected in all samples. For sensory analysis, all samples recorded the same score for overall acceptability. Overall, keropok lekor made using 1.2% lemongrass oil was the best formulation. The results obtained support the use of lemongrass oil as a potential antimicrobial additive in keropok lekor.
Downloads
Download data is not yet available.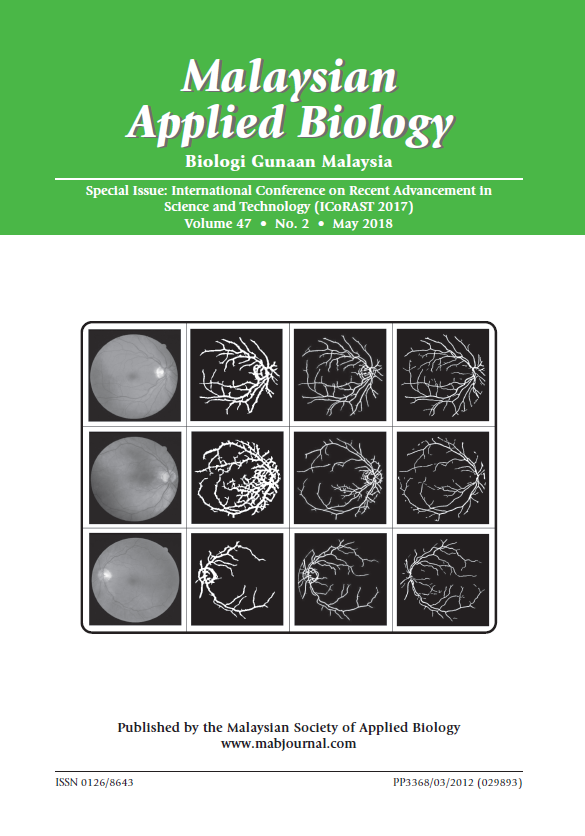 How to Cite
NURUL NAJWA, H. M. F., & VICKNESHA, S. (2018). THE EFFECTIVENESS OF LEMONGRASS (Cymbopogon citratus) OIL AS AN ANTIMICROBIAL ADDITIVE IN KEROPOK LEKOR. Malaysian Applied Biology, 47(2), 77–82. Retrieved from https://jms.mabjournal.com/index.php/mab/article/view/1949
Section
Research Articles