ISOLATION AND IDENTIFICATION OF AMYLOLYTIC BACTERIA FROM RAGI
Keywords:
ragi, amylolytic activity, starch-degrading bacteria
Abstract
Ragi is a traditional dry starter culture frequently used in many fermented food products in Asian countries. Ragi contains starch that can be degraded by amylases provided by bacteria and other microorganisms during fermentation in producing fermented foods. This study was carried out to isolate bacteria from ragi and to screen for their ability to hydrolyse starch. Seven bacterial colonies were isolated from ragi, with three samples showing starch hydrolysis activity. Two of the starch- degrading bacterial isolates were identified using partial 16S rRNA gene sequencing as Bacillus licheniformis with 97% and 98% similarity, and one sample identified as a lactic acid bacteria, Enterococcus faecium (98%). Isolation and identification of these bacteria from ragi can provide a promising source of amylase that can be further studied and manipulated for the development of starter culture and to improve the quality of traditional ragi-based fermented food products.
Downloads
Download data is not yet available.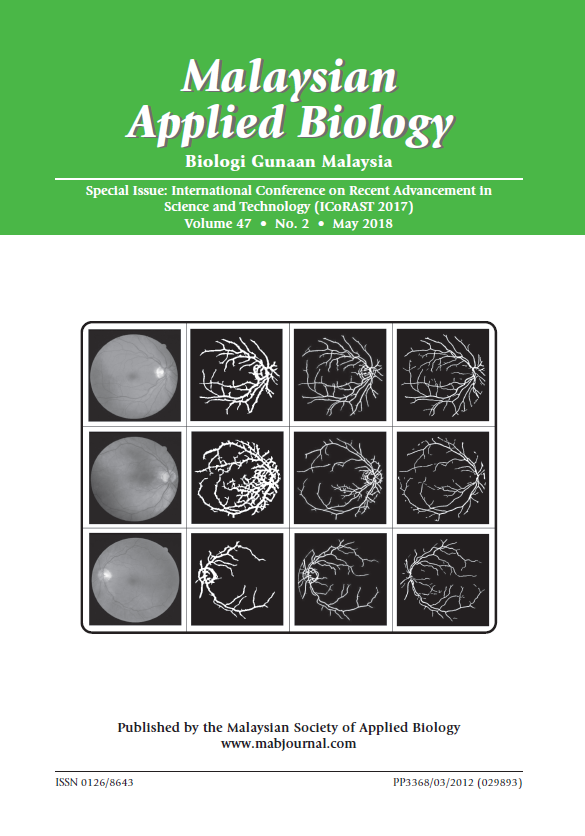 How to Cite
ROSLAN, R. ., REHAN, M. M., KAMARUDIN, K. R., MOHD NOOR, H., HUDA-FAUJAN, N., & MAT RADZI, S. (2018). ISOLATION AND IDENTIFICATION OF AMYLOLYTIC BACTERIA FROM RAGI. Malaysian Applied Biology, 47(2), 83–88. Retrieved from https://jms.mabjournal.com/index.php/mab/article/view/1950
Section
Research Articles