OXIDATIVE STABILITY OF PALM OLEIN ADDED WITH ETHANOL EXTRACT OF CURRY LEAVES AND SENSORY QUALITY OF THE FRIED PRODUCT
Keywords:
Oxidation process, curry leaves extract, palm olein, sensory quality
Abstract
In this study, curry leaves extract was used to minimize the oxidation process upon deep-fat frying. Crude extract was isolated from dried and ground curry leaves using ethanol and excess solvent was evaporated off. Three systems of frying oil; I) palm olein without curry leaves extract, II) palm olein with 0.02% curry leaves extract and III) palm olein with 0.04% curry leaves extract were prepared and fried repeatedly to 6 consecutive batches. Oil sample was collected at batches 2, 4 and 6 for analysis of iodine value (IV), peroxide value (PV), free fatty acid (FFA) content and thiobarbituric acid (TBA) value while the fries was kept for sensory quality assessment. Generally, the findings showed that system III was the most effective in retarding oil oxidation as compared to system I and II. This could be clearly observed in analysis of PV and IV, where system III gave the lowest rate of increment. Sensory attributes (yellow colour, hardness, oiliness, rancid smell, curry leaves aroma and overall quality) of the fried fries was found to have no significant (P>0.05) differences between all the systems indicating that the extract did not affect the sensory attributes evaluated.
Downloads
Download data is not yet available.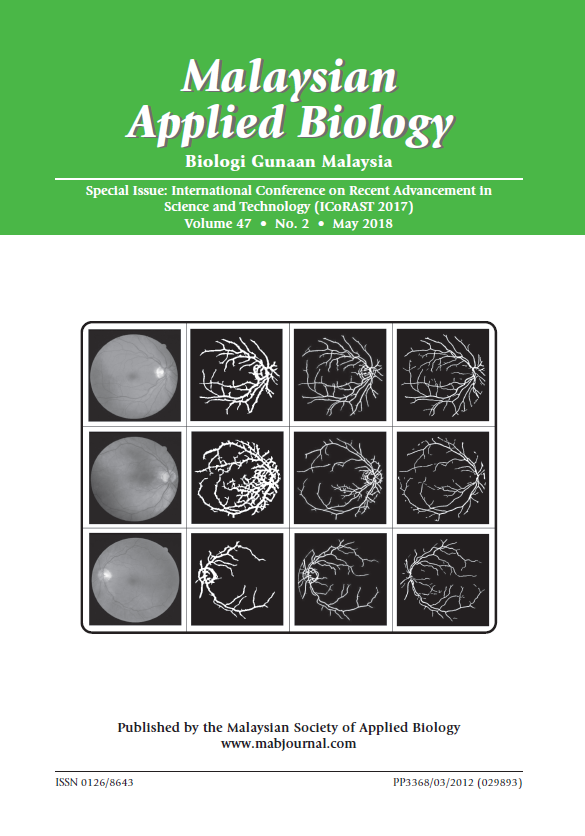 How to Cite
WAN RASNI, W. H. N. ., SUKAIMI, J., YAHYA, H., HUDA-FAUJAN, N., & ARIFIN, N. (2018). OXIDATIVE STABILITY OF PALM OLEIN ADDED WITH ETHANOL EXTRACT OF CURRY LEAVES AND SENSORY QUALITY OF THE FRIED PRODUCT. Malaysian Applied Biology, 47(2), 89–94. Retrieved from https://jms.mabjournal.com/index.php/mab/article/view/1951
Section
Research Articles