IDENTIFICATION OF BACTERIA ASSOCIATED WITH Holothuria (Mertensiothuria) leucospilota FROM PANGKOR ISLAND
Keywords:
Holothuria leucospilota, Bacteria, 16S rDNA, Pangkor Island
Abstract
Holothuria (Mertensiothuria) leucospilota is the most abundant sea cucumber species in Malaysia. This study aimed to identify bacteria isolated from the external and internal body parts of H. leucospilota collected from the coastal water of Pangkor Island, Perak, Malaysia. A total of 26 bacterial samples were isolated using streak plate method from eight body parts of two fresh H. leucospilota specimens and from the surrounding surface sediments and seawater. Identification of the bacterial isolates was based on microscopic examination, 16S rDNA amplification and phylogenetic analysis using the neighbour-joining method. Three genera of bacteria were identified namely Vibrio, Bacillus, and Acinetobacter. The genus Vibrio was found to be the main bacterial group associated with the H. leucospilota specimens from Pangkor Island.
Downloads
Download data is not yet available.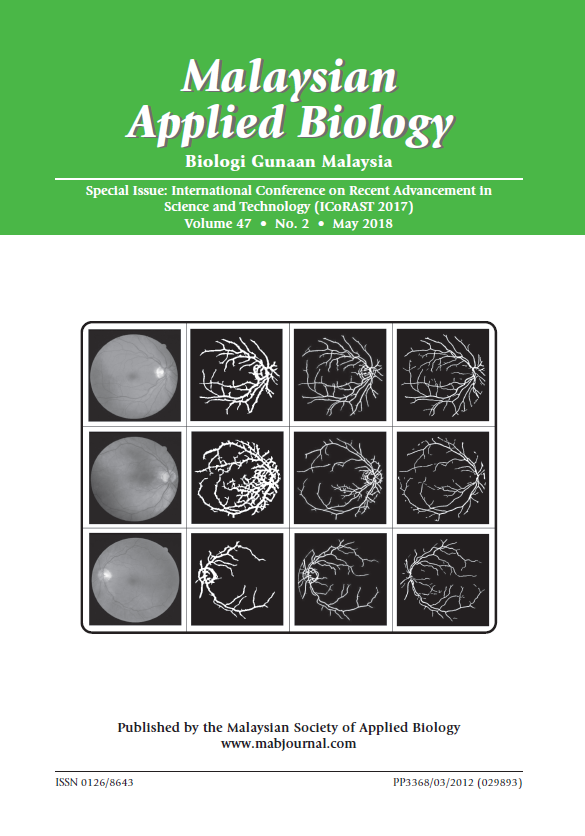 How to Cite
MUHAMMAD LUTFI, F. N. ., REHAN, M. M., KAMARUDIN, K. R., CHE ZAHRI, M. Z., MOHD NOOR, H., & MAT RADZI, S. (2018). IDENTIFICATION OF BACTERIA ASSOCIATED WITH Holothuria (Mertensiothuria) leucospilota FROM PANGKOR ISLAND. Malaysian Applied Biology, 47(2), 95–101. Retrieved from https://jms.mabjournal.com/index.php/mab/article/view/1952
Section
Research Articles