AMINO ACID AND FATTY ACID PROFILING OF LOCAL FERMENTED RICE POWDER (BEDAK SEJUK) AND ITS SOAKING WATER
Keywords:
bedak sejuk, rice cosmetics, amino acid, fatty acid, rice fermentation
Abstract
This research was done to determine the amino acids and fatty acids profiles in bedak sejuk and its soaking water. The results of shows 16 out of 17 types of amino acids detected in both bedak sejuk and soaking water. The amino acids detected were aspartic acid, serine, glutamic acid, glycine, histidine, arginine, threonine, alanine, proline, tyrosine, valine, methionine, lysine, isoleucine, leucine, and phenylalanine. Glutamic acid was found to be the highest concentration in bedak sejuk at
10.33 g/g × 10-3 (w/w) and the lowest was methionine at 0.36 g/g × 10-3 g (w/w). In soaking water samples glutamic acid and methionine were the highest and lowest concentrations at 1.31 g/g × 10-3 and 0.055 g/g × 10-3 (w/w), respectively. As for fatty acid profiles, only seven out of 37 types of fatty acid tested were discovered in the soaking water while 17 were detected in bedak sejuk. The highest concentration of fatty acids in bedak sejuk was linoleic acid at 44.336% (w/w) followed by palmitic acid at 34.791% (w/w) and oleic acid was the highest concentration at 21.561% (w/w) in soaking water.
Downloads
Download data is not yet available.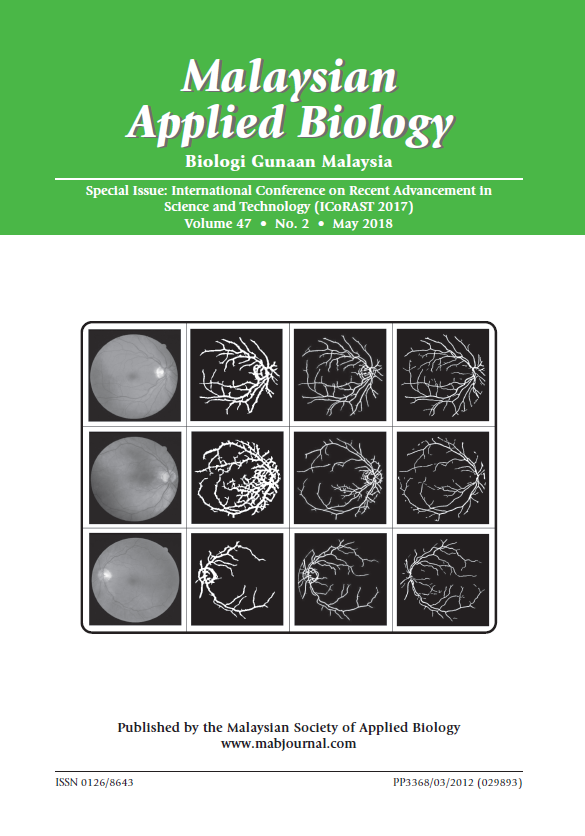 How to Cite
MUHAMMAD JOHAR, S. F. ., DZULFAKAR, M. A. A., & KOFLI, N. T. (2018). AMINO ACID AND FATTY ACID PROFILING OF LOCAL FERMENTED RICE POWDER (BEDAK SEJUK) AND ITS SOAKING WATER. Malaysian Applied Biology, 47(2), 113–117. Retrieved from https://jms.mabjournal.com/index.php/mab/article/view/1954
Section
Research Articles