SOLID SUBSTRATE FERMENTATION OF SAGO WASTE AND ITS EVALUATION AS FEED INGREDIENT FOR RED HYBRID TILAPIA
Keywords:
Aspergillus niger, Bacillus amyloliquefaciens, mixed culture, Neurospora crassa, nutrient enhancement, Sago waste, solid-state fermentation
Abstract
The increasing demand for fishmeal in aquaculture industry causes the rising cost of feed yearly. Here, we reported on the solid-state fermentation of sago waste inoculated with mixed microbial cultures, optimization of its fermentation parameters to improve the nutrient contents, and the use of the fermented sago waste as an ingredient in the formulation of fish feed diet. The use of Bacillus amyloliquefaciens, Aspergillus niger, and Neurospora crassa as inoculums gave the best, improved physiochemical properties and nutrient content of the fermented sago waste. The optimum conditions were 5 days, 28°C, pH 3, and sodium nitrate as a nitrogen source. Under the optimized conditions, moisture content, crude protein, and ash increases by 11.8%, 1.3%, and 5.1%; whereas dry matter and crude fiber decreases by 11.8% and 6.1%; respectively. The fermented sago waste prepared was further used as ingredient in the formulation of the fish feed diet and fed to red hybrid tilapia. Fish feed that contained up to 150 g kg-1 of fermented sago waste had a similar growth rate. Growth performance, specific growth rate, feed conversion ratio, and survival rate of tilapia fed were not of significant difference compared to control diet. The supplementation of the diets for 60 days resulted in 1.50 ± 0.48 g fish-1 mean body weight gain with a specific growth rate of 0.68 ± 0.17% day-1, feed conversion ratio of 2.33 ± 0.84, and survival rate of 80%. This concludes that fermented sago waste has the potential as a partial substitute for fishmeal.
Downloads
Download data is not yet available.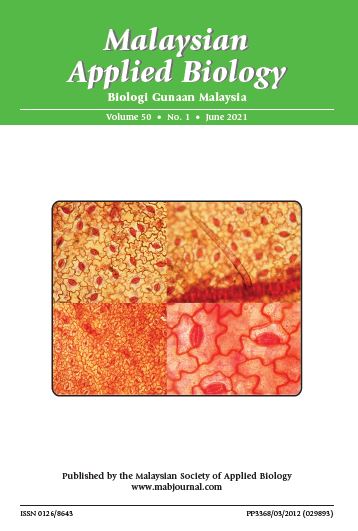 How to Cite
LANI, N. ., HUSAINI, A., NGIENG, N. S., LEE, K. S., A. RAHIM, K. A., ROSLAN, H. A., & ESA, Y. . (2021). SOLID SUBSTRATE FERMENTATION OF SAGO WASTE AND ITS EVALUATION AS FEED INGREDIENT FOR RED HYBRID TILAPIA. Malaysian Applied Biology, 50(1), 85–94. https://doi.org/10.55230/mabjournal.v50i1.15
Section
Research Articles
Copyright & Licensing
Any reproduction of figures, tables and illustrations must obtain written permission from the Chief Editor (wicki@ukm.edu.my). No part of the journal may be reproduced without the editor's permission