EFFECTIVENESS OF INSECTICIDES ROTATION WITH DIFFERENT MODES OF ACTION AGAINST OIL PALM BUNCH MOTH Tirathaba mundella (WALKER) (Lepidoptera, Pyralidae)
Keywords:
bunch moth, chlorantraniliprole, oil palm, Tirathaba mundella
Abstract
Tirathaba mundella Walker has emerged as one of the most prominent bunch feeding pests in Sarawak peat oil palm estates. Insecticides application is inevitable to prevent economic loss. However, to protect insect pollinators which cohabitat with the pest and reduce the risk of resistance development among the pest to insecticides, rotation treatments with more than one pollinator-friendly insecticides is recommended. This paper examines the effectiveness of rotating several pollinator-friendly insecticides in controlling the pest. To assess the effectiveness of different rotation combination, a field study on a seven-year-old peat estate was carried out using several insecticides combinations and application intervals, then the level of infestation post-treatment was assessed. Significantly, the results showed that only four single rounds of insecticides application in a year would yield relatively better control than nine rounds of Bacillus thuringiensis applications. Overall, there was no significant difference in clean bunches percentages obtained between five rounds of treatment compared to only four rounds per year. The result strengthens our confidence that the optimum and most cost-effective approach for one-year protection against T. mundella was two rounds of 30.0 g active ingredient of chlorantraniliprole per ha rotated with two rounds of 25.0 g active ingredient of chromafenozide. The material cost was calculated as RM 351.20 per ha per year. The findings of this study would benefit future pest management practice in oil palm plantation established on peatland
Downloads
Download data is not yet available.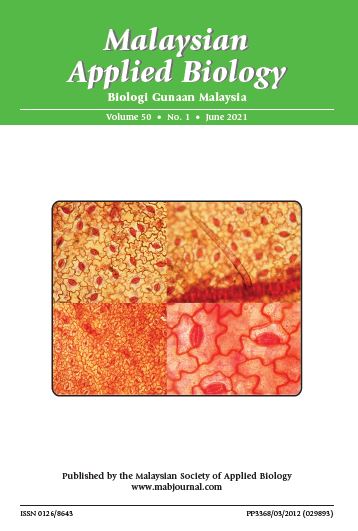 How to Cite
MING, S. C., KING JIE HUNG, P. ., YEE MIN, K., AB AZIZ, Z. F., & ONG KIAN HUAT. (2021). EFFECTIVENESS OF INSECTICIDES ROTATION WITH DIFFERENT MODES OF ACTION AGAINST OIL PALM BUNCH MOTH Tirathaba mundella (WALKER) (Lepidoptera, Pyralidae). Malaysian Applied Biology, 50(1), 145–156. https://doi.org/10.55230/mabjournal.v50i1.1503
Section
Research Articles
Copyright & Licensing
Any reproduction of figures, tables and illustrations must obtain written permission from the Chief Editor (wicki@ukm.edu.my). No part of the journal may be reproduced without the editor's permission