SCREENING OF SELECTED MALAYSIAN HERBS AS THE POTENTIAL BROAD SPECTRUM ANTIMICROBIAL AGENT AGAINST BACTERIAL DISEASES OF FISH
Keywords:
Antibacterial activity, fish pathogens, Malaysian herbs, methanolic extracts
Abstract
The control of fish disease is mostly based on synthetic antimicrobial agents. Indiscriminate usage of antimicrobial agents has resulted in antibiotics resistance. Therefore, the present study aims to evaluate the potential antimicrobial properties of herbal plants as an alternative antimicrobial agent. The susceptibility of fish pathogens namely Bacillus sp., Enterococcus faecalis, Staphylococcus aureus, Streptococcus agalactiae, Aeromonas hydrophila, Escherichia coli, Klebsiella pneumoniae, Pseudomonas aeruginosa and Vibrio alginolyticus towards aqueous and methanolic extracts of Cosmos caudatus, Curcuma mangga, Justicia gendarussa, Piper betle and Zingiber zerumbet were assessed using the agar well diffusion, Minimum Inhibitory Concentration (MIC) and Minimum Bactericidal Concentration (MBC) assays. The methanolic extracts were found active against all tested bacteria, compared to aqueous extracts. The best antibacterial activity was demonstrated by methanolic extract of P. betle, followed by Z. zerumbet, C. caudatus, C. mangga and J. gendarussa, with the lowest MIC and MBC values of 0.39 and 1.56 mg/mL, respectively. The methanolic extracts of P. betle and Z. zerumbet also had greater inhibitory effects than some of the commercial antibiotics, particularly tetracycline and erythromycin. Overall findings suggested that the methanolic extracts of P. betle and Z. zerumbet are potential to be developed as new antimicrobial agents to prevent fish bacterial diseases.
Downloads
Download data is not yet available.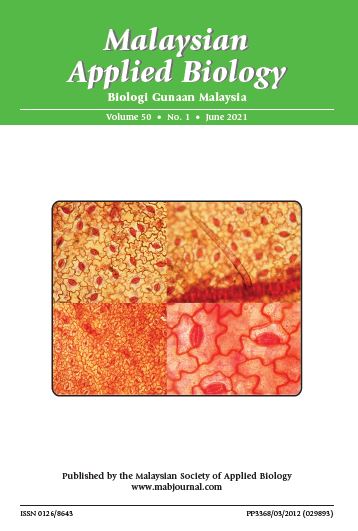 How to Cite
AHMAD, S. ., MOHD DAUD, H. ., RUKAYADI, Y. ., ABDELHADI, Y. M. ., YUSOFF, N. A. H. ., & KAMARUDIN, M. S. . (2021). SCREENING OF SELECTED MALAYSIAN HERBS AS THE POTENTIAL BROAD SPECTRUM ANTIMICROBIAL AGENT AGAINST BACTERIAL DISEASES OF FISH. Malaysian Applied Biology, 50(1), 157–168. https://doi.org/10.55230/mabjournal.v50i1.1504
Section
Research Articles
Copyright & Licensing
Any reproduction of figures, tables and illustrations must obtain written permission from the Chief Editor (wicki@ukm.edu.my). No part of the journal may be reproduced without the editor's permission