POSSIBILITY OF SAP-FEEDING BEETLE, NITIDULIDAE, AS A SPREADING AGENT FOR BLOOD DISEASE BACTERIUM ON THE BANANA PLANT
Keywords:
Nitidulidae, blood disease bacterium, banana blood disease
Abstract
Banana blood disease (BBD) caused by blood disease bacterium (BDB) is one of the major diseases of Indonesian banana plants. The foraging activity of flower-visiting insects was suspected as the vectors of the disease. This study aims at analyzing the potential of the sap-feeding beetle, Nitidulidae, as a vector of BDB. Beetle collection was done by using purposive sampling method on three cultivars of banana inflorescence: Nangka, Klutuk, and Siem. The bacterium was isolated from the outside and the inside of beetle tissues and was followed with bacterial DNA extraction. Confirmation of bacterial cell culture as BDB was conducted by biochemical assay and PCR using 16S rDNA oligonucleotide. The findings revealed that the beetle population in the three cultivars of banana cultivars was Nangka (66%), Siem (19%) and Klutuk (16%). According to the biochemical assay and PCR result, it has been found that the bacterial cell culture was found positive as BDB, which was putative 79% and homolog with BDB that is in accordance with the data provided by NCBI. Thereby, the discovery of BDB in sap-feeding beetle, Nitidulidae, showed that the foraging activity has the potential as an agent of spreader of BDB in banana plants.
Downloads
Download data is not yet available.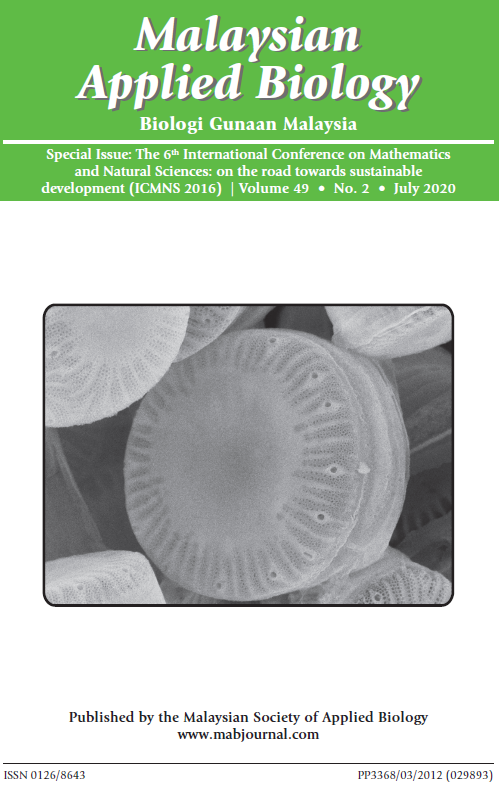 How to Cite
ANGGRAENI, T., MASRIANY, DWIVANY, F. M., & ESYANTI, R. R. . (2021). POSSIBILITY OF SAP-FEEDING BEETLE, NITIDULIDAE, AS A SPREADING AGENT FOR BLOOD DISEASE BACTERIUM ON THE BANANA PLANT. Malaysian Applied Biology, 49(2), 1–5. https://doi.org/10.55230/mabjournal.v49i2.1515
Copyright & Licensing
Any reproduction of figures, tables and illustrations must obtain written permission from the Chief Editor (wicki@ukm.edu.my). No part of the journal may be reproduced without the editor's permission