CLONING AND in silico STUDIES OF LIPASE GENE OF A THERMOPHILIC BACTERIA ISOLATED FROM THE HYDROTHERMAL VENT AREA OF KAWIO, NORTH SULAWESI
Keywords:
Lipase, thermophlic bacteria, Bacillus safensis, hydrothermal vent
Abstract
Underwater volcano is an example of a natural habitat of thermophilic bacteria, such as hydrothermal vent Kawio in North Sulawesi. The focus of this research was to screen the bacterial isolates originally from hydrothermal vent Kawio for the production of thermostable lipase. In this study, the lipase gene from the selected isolate was cloned, sequenced, and in silico analysis was performed to predict the characteristics of the lipase protein. One of three isolates examined, showed a positive reaction. Phylogenetic analysis of 16S rRNA gene showed that the isolate was a novel bacteria closely related to Bacillus safensis strain FO-26b with 96,87% homology. Amino acid sequence analysis of the lipase showed similarity between lipase of Bacillus pumilus strain B106 with 98% homology. Further analysis at the protein level indicated that the lipase isolated from marine water was a member of family I.4 of 'true lipase' group.
Downloads
Download data is not yet available.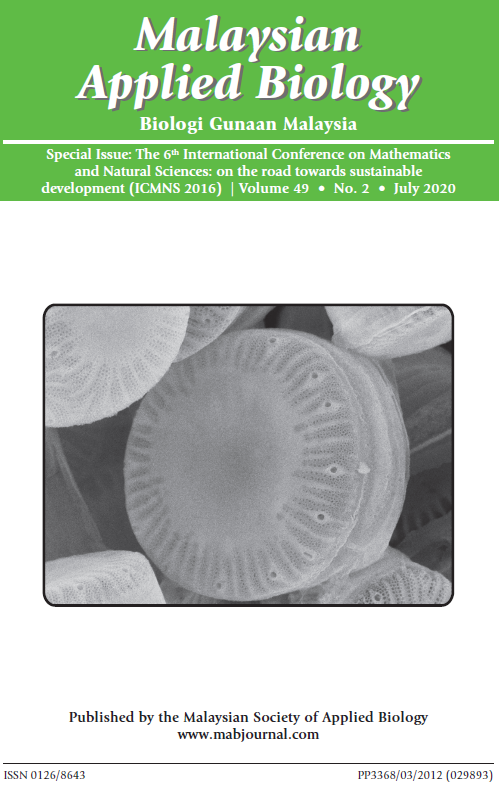 How to Cite
LAMBANGSARI, K. ., MOEIS, M. R., & RESTIAWATY, E. . (2021). CLONING AND in silico STUDIES OF LIPASE GENE OF A THERMOPHILIC BACTERIA ISOLATED FROM THE HYDROTHERMAL VENT AREA OF KAWIO, NORTH SULAWESI. Malaysian Applied Biology, 49(2), 13–17. https://doi.org/10.55230/mabjournal.v49i2.1517
Copyright & Licensing
Any reproduction of figures, tables and illustrations must obtain written permission from the Chief Editor (wicki@ukm.edu.my). No part of the journal may be reproduced without the editor's permission