CLONING, SEQUENCING, AND IDENTIFICATION OF rhd α-SUBUNIT GENE OF HALOAROMATIC DEHALOGENASE TERMINAL OXYGENASE FROM Pseudomonas aeruginosa LOCAL STRAIN
Keywords:
Pseudomonas aeruginosa, haloaromatic dehalogenases, rhd α-subunit gene
Abstract
Haloaromatic is one of organohalogen pollutants found in the environment. These compounds are toxic, persistent, carcinogenic, and mutagenic. Accumulations of these compounds in the environment may cause serious diseases in organisms, including humans. Previous research results showed that breaking the bond of halogen atom from the aromatic ring could eliminate the toxicity of these compounds. Haloaromatic dehalogenase is an enzyme that possesses an ability to cut the halogen atom from the aromatic ring. In this research, a rhd α-subunit gene of haloaromatic dehalogenase terminal oxygenase has been isolated and sequenced. The gene was isolated by PCR approach from Pseudomonas aeruginosa local strain, which is a Gram- negative bacterium found in soil as a pioneer growth bacterium. The sequence obtained indicated that rhd α-subunit gene is 1290 bp in size. The RHD a-subunit deduced amino acid has Cys98-X1-His100-X17-Cys118-X2-His121 and His217-X4- His222-X149-Asp372 motifs, two important motifs in aromatic ring hydroxylating dioxygenase family, which is a large family of multi subunit and multifunctional proteins. One of its functions is in the breaking of halogen element from the aromatic carbon ring. Omori classification showed that RHD α-subunit is classified as Group II of aromatic ring hydroxylating dioxygenase family, which includes haloaromatic dehalogenases. The result of 3D structure prediction also indicated that this protein belongs to this large family with 54 percentile Mol Probity score.
Downloads
Download data is not yet available.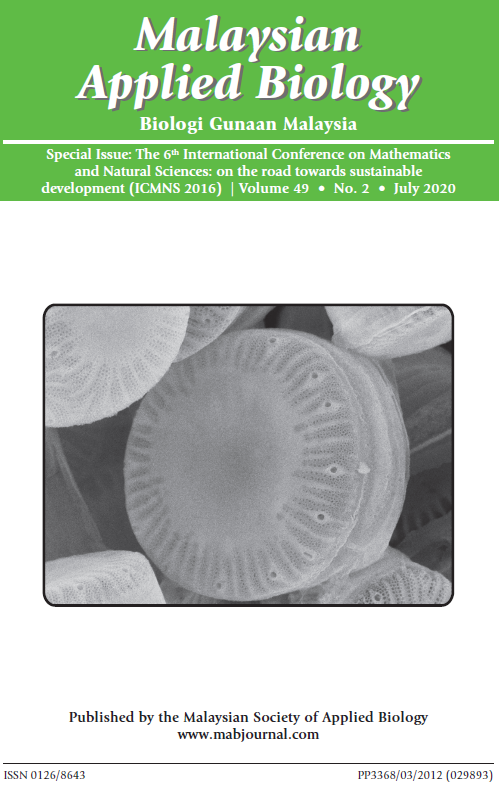 How to Cite
IKHSAN, F., & RATNANINGSIH, E. (2021). CLONING, SEQUENCING, AND IDENTIFICATION OF rhd α-SUBUNIT GENE OF HALOAROMATIC DEHALOGENASE TERMINAL OXYGENASE FROM Pseudomonas aeruginosa LOCAL STRAIN. Malaysian Applied Biology, 49(2). https://doi.org/10.55230/mabjournal.v49i2.1521
Copyright & Licensing
Any reproduction of figures, tables and illustrations must obtain written permission from the Chief Editor (wicki@ukm.edu.my). No part of the journal may be reproduced without the editor's permission