MANGO (Mangifera indica L.) LEAVES WASTE/POLYVINYL ACETATE BIOCOMPOSITE FOR BUILDING MATERIALS APPLICATION
Keywords:
Mango leaves waste, polyvinyl acetate, biocomposite, compressive strength
Abstract
A leaves waste biocomposite was produced via a simple mixing and hot-pressing process. Using mango (Mangifera indica L.) leaves waste as a filler and polyvinyl acetate (PVAc) as a binder, the biocomposite was synthesized at pressure and temperature of 3 metric tons and 40°C, respectively, for 20 minutes. The weight fraction of leaves waste varied obtaining a composite having maximum compressive strength, i.e., 37.82 MPa for leaves waste fraction of 0.62 (w/w). This strength is comparable to several stones such as sandstone stone, limestone, clay brick, aspen wood, and pinewood usually used as building materials. Therefore, the biocomposite is acceptable for building materials application.
Downloads
Download data is not yet available.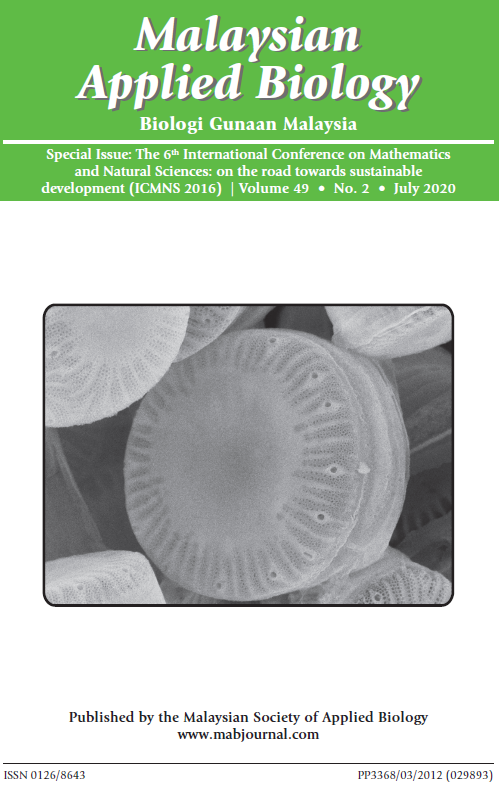 How to Cite
MASTURI, ALIGHIRI, D., JANNAH, W. N., MAULANA, R. M., AMRI, U., SUSILAWATI, & SUNARNO. (2021). MANGO (Mangifera indica L.) LEAVES WASTE/POLYVINYL ACETATE BIOCOMPOSITE FOR BUILDING MATERIALS APPLICATION. Malaysian Applied Biology, 49(2), 49–53. https://doi.org/10.55230/mabjournal.v49i2.1522
Copyright & Licensing
Any reproduction of figures, tables and illustrations must obtain written permission from the Chief Editor (wicki@ukm.edu.my). No part of the journal may be reproduced without the editor's permission