EFFECT OF BLUE LIGHT EXPOSURE TO BRAIN WAVE PHYSIOLOGY RELATED TO COGNITIVE AND MOTORIC FUNCTION DURING NIGHT DRIVING SIMULATION
Keywords:
Blue light, electroencephalograph, brain wave, cognitive, motoric, circadian rhythm, driving simulator
Abstract
Safety issue and accident of land transportation needs to be concerned about. One of the main reasons of most driving accidents is drowsiness since it is associated with circadian rhythm, which is formed by blue light in solar day light. Studies reported that blue light controls circadian rhythm and prevent drowsiness. This research aims to assess the effect of artificial blue light exposure at night that is expected to prevent drowsiness and behavior changes related to night driving. Behavioral changes can be observed from cognitive response activities that are evaluated by physiologic changes of brainwaves. Seven male subjects were chosen that met the assigned criteria. Brainwaves data was collected from 21.00 to 22.30 using the Electroencephalograph (EEG) from F3 and F4 channels for cognitive function. Results of blue light exposure suggested: (1) temporary effect on cognitive function, (2) fluctuation of brainwave activity in one minute interval, (3) increase hemispheric synchronization in cognitive function, and (4) delay brain asymmetric pattern in cognitive function. We concluded that blue light exposure influences the function of cognitive functions and has potential effect to prevent drowsiness.
Downloads
Download data is not yet available.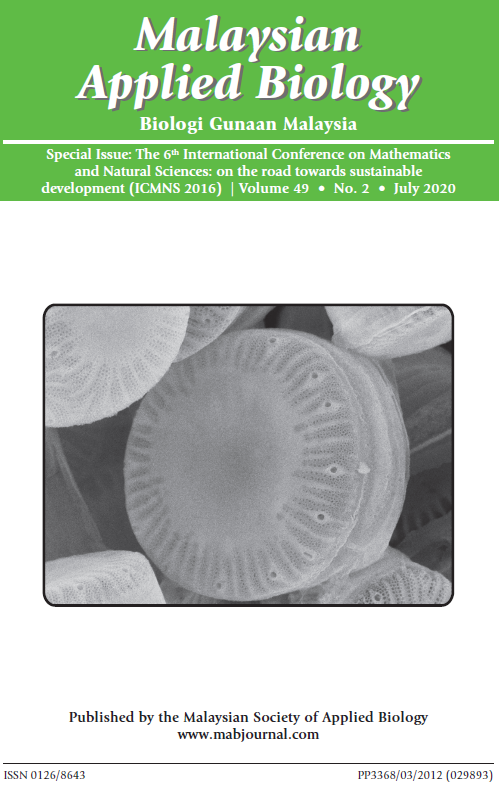 How to Cite
FITRI, L. L. ., PURAWIJAYA , D. A. ., & SUPRIJANTO. (2021). EFFECT OF BLUE LIGHT EXPOSURE TO BRAIN WAVE PHYSIOLOGY RELATED TO COGNITIVE AND MOTORIC FUNCTION DURING NIGHT DRIVING SIMULATION. Malaysian Applied Biology, 49(2), 69–74. https://doi.org/10.55230/mabjournal.v49i2.1525
Copyright & Licensing
Any reproduction of figures, tables and illustrations must obtain written permission from the Chief Editor (wicki@ukm.edu.my). No part of the journal may be reproduced without the editor's permission