OCEANIC DISPERSAL MODEL OF GREEN TURTLE HATCHLINGS IN THE SOUTH CHINA SEA
Keywords:
Ocean model, sea turtle hatchlings, endangered species, conservation, South China Sea
Abstract
High-resolution ocean circulation models have increased our understanding of the movement and distribution of worldwide ocean currents, which were previously unknown and difficult to study. The metabolic expenditure data obtained through open-flow respirometric analysis was put into an energy budget context by comparing it to their available reserved energy in the body upon entering the swimming life phase. We modeled the dispersal range of green turtle hatchling from Chagar Hutang in various monsoon season using the particle-tracking program Ichthyop v3.2 and ocean surface current output from HYCOM (Hybrid Coordinate Ocean Model). The prediction distribution suggests that ocean current variability determines their movements into different dispersal areas. The simulated hatchlings are distributed north into the Gulf of Thailand during the Southwest monsoon, while during the Northeast monsoon, the simulated hatchlings travel south into the Java Sea. By quantifying hatchlings potential energy, they can swim a distance of 116 km and can last up to 7 days. Green turtle hatchlings from Chagar Hutang reached offshore water of Kelantan State and Terengganu waters near Tenggol Island on Day 7. These findings highlight areas of high priority for conservation, as habitat crucial for an endangered sea turtle species during a critical period of early development.
Downloads
Download data is not yet available.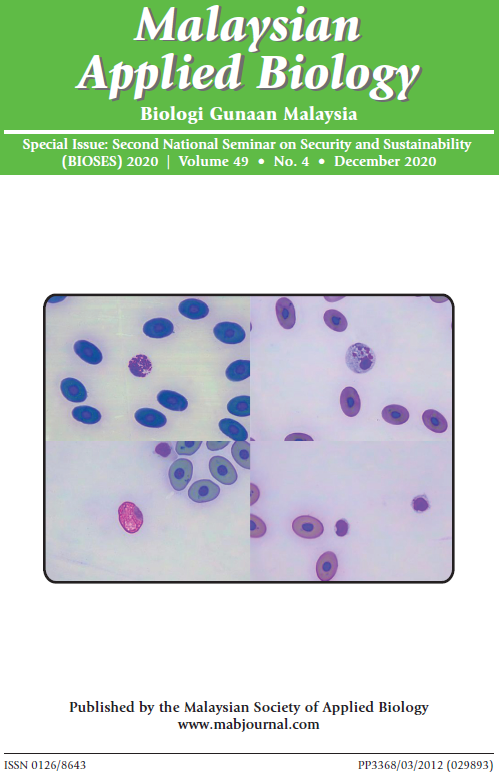 How to Cite
SUHAIMI, N. S. ., DAUD, N. R. ., AKHIR, M. F. ., & RUSLI, M. U. . (2021). OCEANIC DISPERSAL MODEL OF GREEN TURTLE HATCHLINGS IN THE SOUTH CHINA SEA. Malaysian Applied Biology, 49(4), 41–55. https://doi.org/10.55230/mabjournal.v49i4.1566
Section
Research Articles
Copyright & Licensing
Any reproduction of figures, tables and illustrations must obtain written permission from the Chief Editor (wicki@ukm.edu.my). No part of the journal may be reproduced without the editor's permission