ANTIOXIDATIVE ENZYMES ACTIVITY OF Chlorella vulgaris (UMT-M1) IN RESPONSE TO IC50 OF Pb2+ AND Hg2+
Keywords:
Heavy metals, microalgae, superoxide dismutase, catalase, ascorbate peroxidase
Abstract
Heavy metals accumulation in aquatic bodies will lead to many deleterious effects on organisms living in them. Furthermore, some organisms can accumulate metals and this will eventually reach the primary consumers. The application of microalgae as remediator and indicator of metals pollution has become an increasing interest to scientists. In this study, we reported on the defence responses of a marine microalga, Chlorella vulgaris (UMT-M1) against Pb2+ and Hg2+ in terms of three antioxidative enzymes activity: superoxide dismutase (SOD), catalase (CAT) and ascorbate peroxidase (APX). The activity of the enzymes was measured in alga treated with 5.7 mg/L PbCl2 and 0.18 mg/L Hg(NO3)2. These two concentrations were the IC50 values calculated using probit analysis. It was observed that Pb2+ and Hg2+ triggered a different strategy in counterattacking the metal's effects. While a significant induction of SOD and CAT activity was evident in alga treated with both metals, APX activity was significantly inhibited in Pb2+-treated alga but was stimulated by more than 4-fold from the control in Hg2+-treated alga. Higher SOD activity was observed in Pb2+- compared to Hg2+-treated alga. However, lower CAT activity was observed in Pb2+- compared to Hg2+-treated alga. Also, a significant reduction in total soluble protein (TSP) content was observed in alga treated with Hg2+. Pb2+, on the other hand, significantly increased the production of TSP. The changes observed in the antioxidative enzymes activity and TSP content in this alga are good potentials to be used as biomarkers for metal's bioindication tool.
Downloads
Download data is not yet available.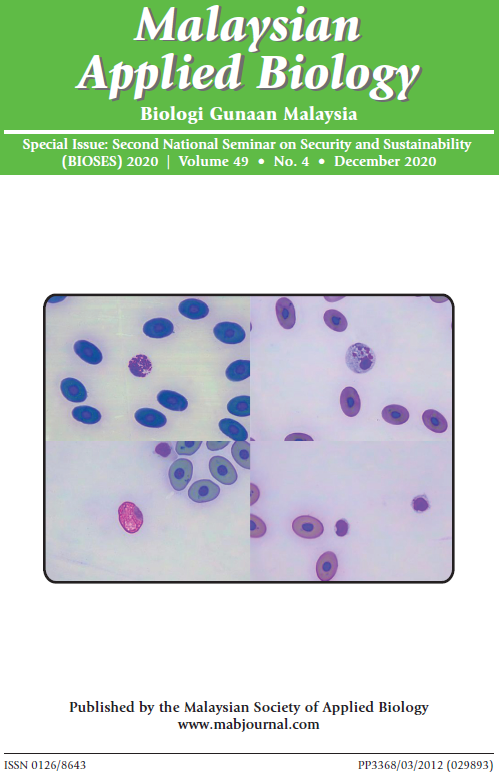 How to Cite
ZAKERI, H. A. ., RAZAK , S. Z. ., & HASMUDIN, H. H. (2021). ANTIOXIDATIVE ENZYMES ACTIVITY OF Chlorella vulgaris (UMT-M1) IN RESPONSE TO IC50 OF Pb2+ AND Hg2+. Malaysian Applied Biology, 49(4), 63–70. https://doi.org/10.55230/mabjournal.v49i4.1568
Section
Research Articles
Copyright & Licensing
Any reproduction of figures, tables and illustrations must obtain written permission from the Chief Editor (wicki@ukm.edu.my). No part of the journal may be reproduced without the editor's permission