EFFECT OF HOT WATER TREATMENT WITH CALCIUM DIPS ON POSTHARVEST QUALITY OF TOMATO
Keywords:
Calcium chloride, hot water treatment, tomato, postharvest treatment
Abstract
Tomato is fruit vegetables sustaining valuable benefits in economy and nutrition. It has a high content of Vitamin C and lycopene. Being a climacteric fruit, tomato is perishable and has a short shelf life. To improve the storage quality of tomato, the effect of hot water treatment and calcium dips on tomato (Solanum lycopersicum) was studied. Tomato fruits were dipped in two temperatures (40°C and 50°C) of the hot water bath for 2 minutes before treatment of 2% calcium chloride for 2 minutes. The fruits were stored at 10°C ± 2°C in the cold room at a relative humidity of 80-95%. Changes in weight loss, firmness, total soluble solids (TSS), titratable acidity, ascorbic acid, and lycopene content were observed and recorded on 0, 2, 4, 6, 8, 10, 12, 14 days of storage. Hot water treatment at 50°C with 2% of calcium chloride can control the weight loss and firmness of tomato with the low level of total soluble solids and acidity and retained the level of ascorbic acid. This treatment prone to extend shelf life, delay ripening and retained the postharvest quality of tomato.
Downloads
Download data is not yet available.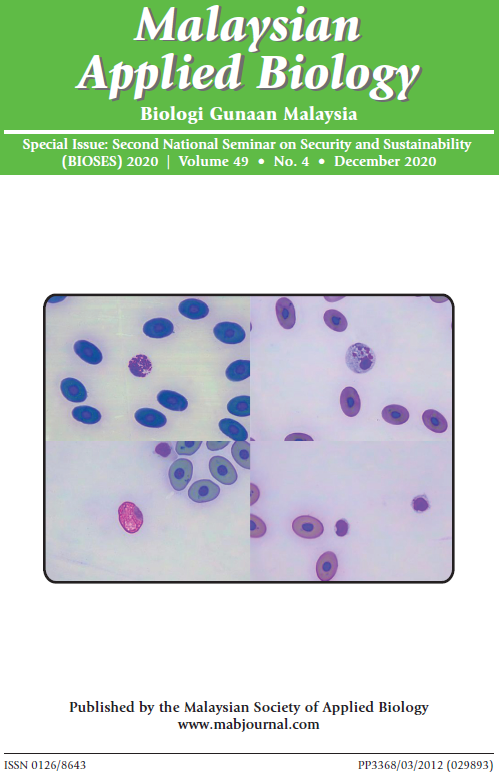 How to Cite
HAO, W. J. ., MOHD NAWI, I. H. ., & MOHD IDRIS, N. I. . (2021). EFFECT OF HOT WATER TREATMENT WITH CALCIUM DIPS ON POSTHARVEST QUALITY OF TOMATO. Malaysian Applied Biology, 49(4), 71–77. https://doi.org/10.55230/mabjournal.v49i4.1569
Section
Research Articles
Copyright & Licensing
Any reproduction of figures, tables and illustrations must obtain written permission from the Chief Editor (wicki@ukm.edu.my). No part of the journal may be reproduced without the editor's permission