EFFECTS OF VARIOUS CARBON PRECURSORS COMBINATION IN REGULATING THE MOLAR FRACTION OF P(3HB-co-4HB) USING LOCALLY ISOLATED Cupriavidus sp. TMT11
Keywords:
Polyhydroxyalkanoate (PHA), bioplastics, P(3HB-co-4HB), carbon precursor
Abstract
The P(3HB-co-4HB) is commonly used for biomedical applications. This is due to the desired mechanical properties as well as biocompatibility, non-genotoxicity, and non-cytotoxicity of this copolymer. However, the production of P(3HB-co-4HB) with a specific 4HB molar fraction is still limited. In this study, carbon precursors at different combinations and concentration ratios have been used in the production of P(3HB-co-4HB) bioplastics using locally isolated Cupriavidus sp. TMT11. The carbon precursors 1,6-hexandiol, 1,4-butanediol, and g-butyrolactone were used to screen for high cell biomass, PHA content, and 4HB molar fraction through Gas Chromatography (GC) analysis. Generally, the combination of various carbon precursors showed an increase in cell biomass. The carbon combination of 1,4-butanediol and g-butyrolactone at the ratio of 4:2 and carbon combination of 1,6-hexanediol and g-butyrolactone at a ratio of 1:5 showed high amount of cell biomass above 0.35 g/L on day 3. Nevertheless, the 4HB molar fraction of both the combination was recorded as 9±0.27 mol% and 14±1.1 mol% respectively. The lowest amount of cell biomass and PHA yield were recorded with the carbon combination of 1,6-hexanediol and 1,4-butanediol with the ratio 5:1 at 0.55±0.13 g/L. However, the highest 4HB molar fraction of 89.37±3.6 mol% 4HB was recorded with this combination. The 4HB molar fraction above 80 mol% was reported with a carbon combination of 1,6-hexanediol +1,4-butanediol at 5:1, 1:1, and 2:4 ratio. The varying combination of carbon precursors biosynthesized a wide range of 4HB molar fractions ranging from 9.07 to 89.37 mol% 4HB.
Downloads
Download data is not yet available.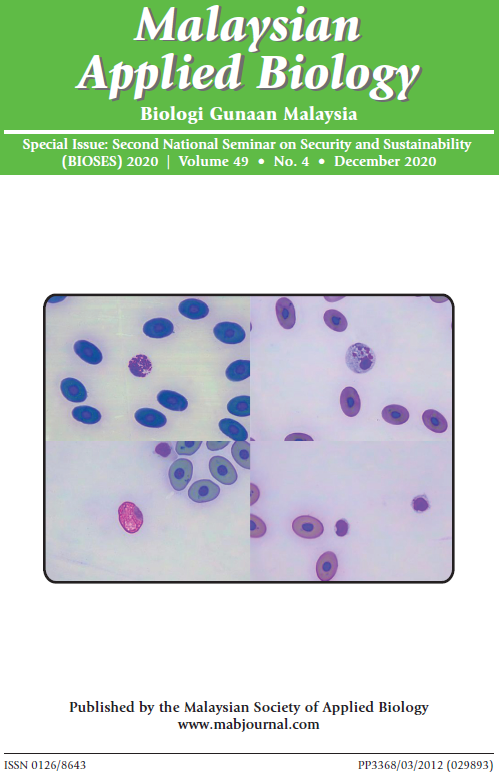 How to Cite
CHAI, J. M. ., KRISHNAN, S. H. R. ., HANG, V. T. Y. ., MOHD HAMDAN, H. A. ., RUZELAN , N. N., & VIGNESWARI, S. (2021). EFFECTS OF VARIOUS CARBON PRECURSORS COMBINATION IN REGULATING THE MOLAR FRACTION OF P(3HB-co-4HB) USING LOCALLY ISOLATED Cupriavidus sp. TMT11. Malaysian Applied Biology, 49(4), 79–84. https://doi.org/10.55230/mabjournal.v49i4.1570
Section
Research Articles
Copyright & Licensing
Any reproduction of figures, tables and illustrations must obtain written permission from the Chief Editor (wicki@ukm.edu.my). No part of the journal may be reproduced without the editor's permission