EFFECT OF DIFFERENT SOLVENTS AND TEMPERATURES OF EXTRACTION ON CITRAL CONCENTRATION AND ANTIOXIDANT PROPERTIES OF FREEZE-DRIED LEMONGRASS (Cymbopogon citratus) POWDER'S EXTRACT
Keywords:
Extraction solvent, extraction temperature, freeze-dried lemongrass powder, citral concentration, antioxidant properties
Abstract
This study aimed to determine the effect of different solvents and temperatures on the citral concentration and antioxidant properties of freeze-dried lemongrass powder extract. Freeze-dried lemongrass powder was extracted using three solvent extractions of hexane, petroleum ether, and methanol at three different temperatures of 27°C, 40°C, and 60°C. Citral concentrations of lemongrass extract were identified and quantified by gas chromatography and flame ionization detector (GC-FID) while antioxidant properties were determined using analysis of total phenolic content, DPPH radical scavenging activity, and ferric reducing antioxidant power (FRAP) assay. Results from this study show that the methanol extract at 40°C obtained the highest total yield (37.70 ± 1.78%). Hexane was found to be the most effective solvent to extract citral compound from freeze-dried lemongrass powder with 239.08 ± 1.28 mg/mL of concentration at temperature extraction of 27°C. However, the efficiency of hexane decreasing upon heating. This study suggested that the solvent extraction using methanol at 40°C is the efficient extraction for total phenolic compound (7419.33 ± 110.78 mg GAE/L), DPPH radical scavenging activity (87.45
± 2.70%), and FRAP assay (52.11 ± 0.07 TE/mL) of freeze-dried lemongrass powder.
Downloads
Download data is not yet available.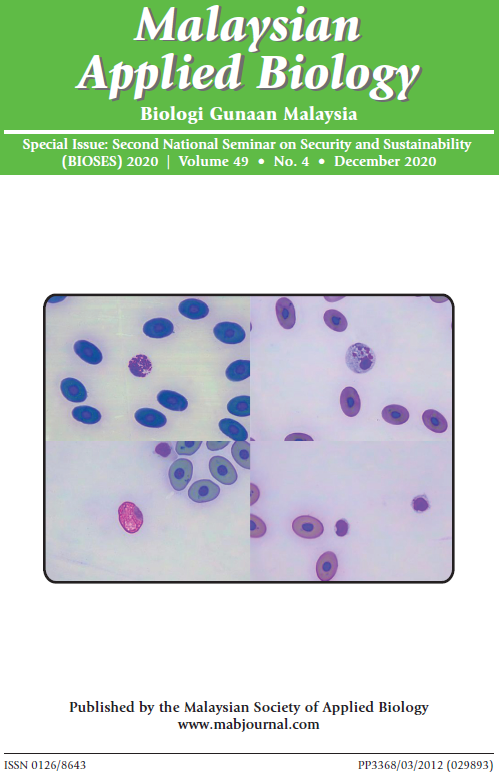 How to Cite
YAHYA, F. ., TENG , T. W. ., & IBRAHIM, N. H. (2020). EFFECT OF DIFFERENT SOLVENTS AND TEMPERATURES OF EXTRACTION ON CITRAL CONCENTRATION AND ANTIOXIDANT PROPERTIES OF FREEZE-DRIED LEMONGRASS (Cymbopogon citratus) POWDER'S EXTRACT. Malaysian Applied Biology, 49(4), 91–98. https://doi.org/10.55230/mabjournal.v49i4.1596
Section
Research Articles
Copyright & Licensing
Any reproduction of figures, tables and illustrations must obtain written permission from the Chief Editor (wicki@ukm.edu.my). No part of the journal may be reproduced without the editor's permission