ISOLATION AND CHARACTERIZATION OF HIGH AMBIENT ELECTROMAGNETIC RADIATION (EMR) BACTERIA
Keywords:
Electromagnetic Radiation (EMR), bacteria, Non-Ionizing Radiation (NIR), mutagenicity, bioremediator
Abstract
Low-frequency electromagnetic radiation (EMR) exists in our environment and remain unnoticeable. Studies show that EMR exposure may affect human health, animal, plants, and also living microorganisms. Therefore, this study intended to isolate, identify, and characterize bacteria exposed to high ambient EMR as well as to determine the viability and mutagenicity of bacteria exposed to different frequencies. The bacterial samples were collected from two areas with high and low electric field strengths; Universiti Malaysia Terengganu (UMT) hostel (0.14 V/M) and near Lake of UniSZA (Universiti Sultan Zainal Abidin) (0.03 V/M). The bacteria were identified and characterized by several methods. The viability and mutagenicity of each bacterial species were determined by counting the number of colonies formed in the enriched (standard) and minimal media after exposure of 10 MHz and 5 GHz frequencies. The results show that Enterobacter sp., which was isolated in UMT hostel, exhibited non-mutagenic and increased viability after 24 hr of exposure to both EMR frequencies of 10 MHz and 5 GHz. Thus, this bacterial species should be further studied since it has the potential as a bioremediator.
Downloads
Download data is not yet available.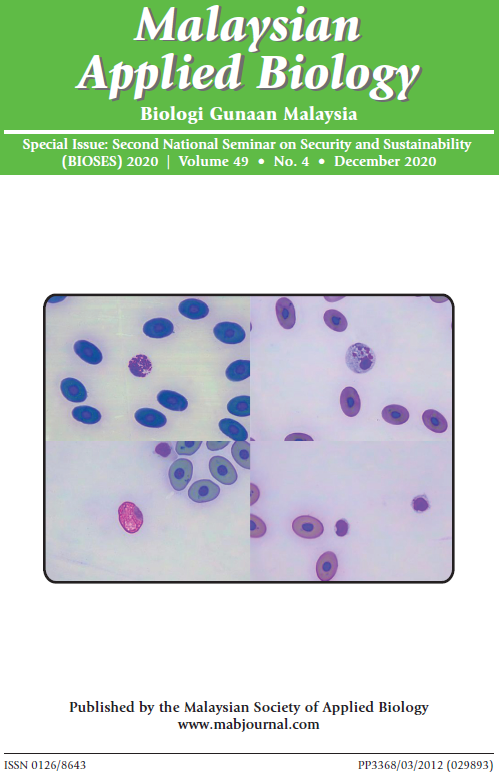 How to Cite
BADALUDDIN, . N. A. ., YIN, S. Y. ., UMAR, R. ., SABRI, N. H., HASSHIM, N. S. ., ALI, M. K. ., & MOHAMED, A. R. . (2020). ISOLATION AND CHARACTERIZATION OF HIGH AMBIENT ELECTROMAGNETIC RADIATION (EMR) BACTERIA. Malaysian Applied Biology, 49(4), 165–172. https://doi.org/10.55230/mabjournal.v49i4.1608
Section
Research Articles
Copyright & Licensing
Any reproduction of figures, tables and illustrations must obtain written permission from the Chief Editor (wicki@ukm.edu.my). No part of the journal may be reproduced without the editor's permission