COMPLIANCE OF SELECTED STINGLESS BEE HONEY IN KELANTAN ACCORDING TO MALAYSIAN STANDARD (MS) 2683:2017
Keywords:
Physicochemical properties, microbial contaminant limits, stingless bee honey, Malaysian Standard 2683:2017
Abstract
In Malaysia, commercial stingless bee honey is in demand due to its nutritional and healing properties, especially in the cosmetic, food and beverage and pharmaceutical industry. However, up to date, these honey products from various districts of Kelantan were not subjected to compliance according to the specification of the Malaysian Standard (MS) 2683:2017. Thus, the objective of the current study was to determine the compliance of selected stingless bee honey (SBH) in Kelantan based upon physicochemical properties and microbiological analysis following MS 2683:2017 specifications. Physicochemical analysis of commercial stingless be honey shows the value of moisture, ash, hydroxymethylfurfural (HMF) and pH were in the range of 27.05 ± 1.39 to 32.61 ± 2.79 %, 0.08 ± 0.01 to 0.14 ± 0.01 g, 8.78 ± 0.92 to 218.66 ± 0.70 mg/kg and
2.34 ± 0.01 to 3.22 ± 0.02, respectively. There was an absence of total coliform in all samples. In summary, all samples of stingless bee honey complied with MS 2683:2017 specification for physicochemical properties and microbial contaminant limits of total plate count (TPC) and total coliform. However, for the microbial contaminant limit of yeast and mold, only sample 6 was contaminated.
Downloads
Download data is not yet available.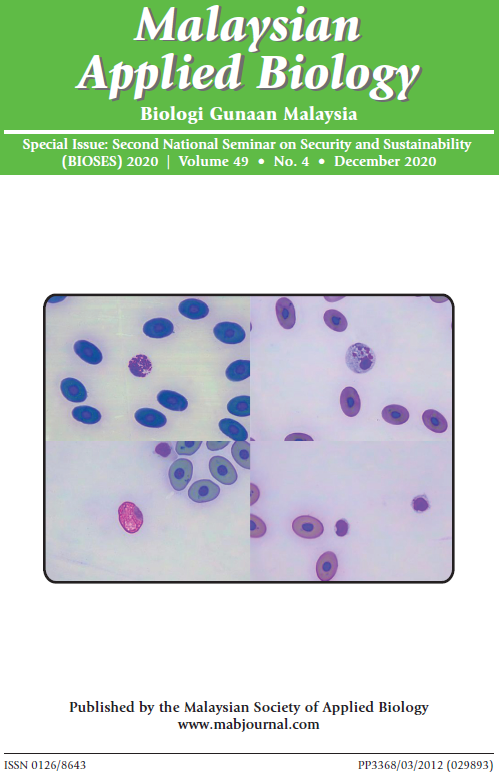 How to Cite
SAIDAN, N. H. ., ROSLAN, N. ., BAHARUDDIN, N. R. M. ., HAMIL, M. S. R. ., & KRISHNAN, K. T. . (2020). COMPLIANCE OF SELECTED STINGLESS BEE HONEY IN KELANTAN ACCORDING TO MALAYSIAN STANDARD (MS) 2683:2017. Malaysian Applied Biology, 49(4), 187–192. https://doi.org/10.55230/mabjournal.v49i4.1612
Section
Research Articles
Copyright & Licensing
Any reproduction of figures, tables and illustrations must obtain written permission from the Chief Editor (wicki@ukm.edu.my). No part of the journal may be reproduced without the editor's permission