EFFECTS OF DRYING METHODS AND SOLVENTS ON PHENOLIC AND FLAVONOIDS CONTENT, DPPH RADICAL SCAVENGING AND -GLUCOSIDASE ACTIVITIES OF Aquilaria LEAVES EXTRACT
Keywords:
-glucosidase activity, Aquilaria sp, DPPH radical scavenging, drying method, solvent extraction
Abstract
Aquilaria is a multipurpose plant with high commercial and medicinal values. The present study aimed to evaluate the effects of drying methods and extraction solvents on the phenolic and flavonoids content in A. malaccensis (AMA), A. subintegra (ASU), and A. sinensis (ASI). Leaf samples were either Air-Dried (AD) or Oven-Dried (OD) and extracted using 100% Ethanol (EE100), 70% ethanol (EE70), aqueous (AE), and hexane (HE). There was a significant difference (p<0.05) between the drying methods and the extracting solvents. The OD in AMA leaf samples gave the highest values of total phenolic compounds (TPC) (52.98 – 85.15 mg GAE/gm) and total flavonoid compounds (TFC) (2180.97 – 3733.45 QUE ppm). The highest DPPH radical scavenging was observed in OD-EE70-AMA with the IC50 value of 33.60 µg/mL. Meanwhile, OD-EE100-AMA gave the lowest IC50 value (0.13 µg/mL) in the a-glucosidase assay, followed by OD-EE70-AMA with IC50 value 0.69 µg/mL with no significant differences among them. OD-EE70-AMA was found to have a higher content of TPC and TFC with the most potent DPPH scavenging and a-glucosidase inhibition activities. A strong positive correlation was reported between bioassays and TPC or TFC, hence indicating that AMA leaf used in this study might have the potential as a natural antioxidant and an antidiabetic agent.
Downloads
Download data is not yet available.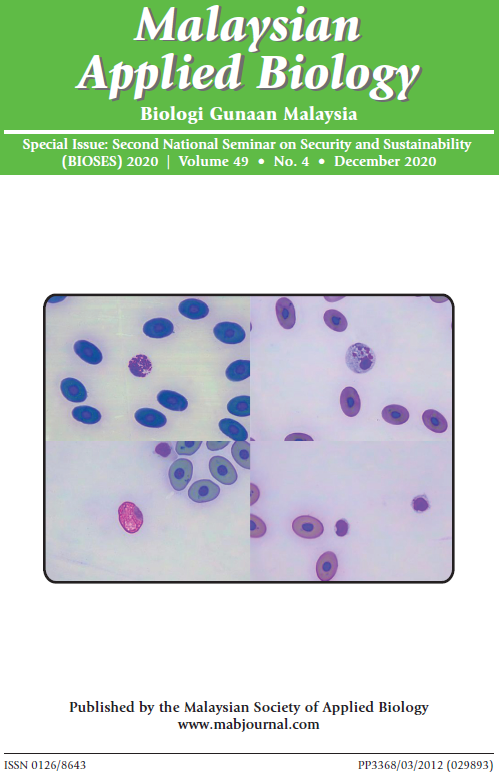 How to Cite
WAN-NADILAH, W. A. ., GHANI, D. A., ABD JALIL, M. S. ., ALI, A. M. ., MAMAT, W. N. A. W. ., & MAHMOD, N. H. . (2020). EFFECTS OF DRYING METHODS AND SOLVENTS ON PHENOLIC AND FLAVONOIDS CONTENT, DPPH RADICAL SCAVENGING AND -GLUCOSIDASE ACTIVITIES OF Aquilaria LEAVES EXTRACT. Malaysian Applied Biology, 49(4), 201–205. https://doi.org/10.55230/mabjournal.v49i4.1619
Section
Research Articles
Copyright & Licensing
Any reproduction of figures, tables and illustrations must obtain written permission from the Chief Editor (wicki@ukm.edu.my). No part of the journal may be reproduced without the editor's permission