ANTIFUNGAL ACTIVITY OF EXTRACTS AGAINST Colletotrichum SPECIES IN HARVESTED CHILI
Keywords:
Chili, extracts, anthracnose, growth inhibition, disease severity
Abstract
Chili is an important vegetable fruit but is commonly attacked by anthracnose disease during field or storage. A current practical method to control this disease is through synthetic fungicides. Although it shows the effective result, repetitive application of chemical fungicides may build up resistant pathogens, expose the risk to human health, and be regarded as not eco-friendly to the environment. This study aimed to evaluate the antifungal activity of several extracts and their potential to control Colletotrichum sp. in harvested chili. For this purpose, several plant extracts namely garlic, ginger, dragon fruit peel (DFP), and milk were used with the concentration ranged from 5 to 20%. All these extracts and milk were tested through in vitro antifungal assay and in vivo antifungal assay directly on the detached chili. The results show that garlic, ginger, and DFP were able to significantly inhibit the fungal pathogen of Colletotrichum sp. through in vitro study with p<0.05. Based on in vivo study, the only chili treated with 20% garlic extract, 20% ginger extract, and fungicide recorded a significantly lower percentage of disease severity (ds) as compared to the other extracts. Both 20% garlic and 20% ginger extracts showed good potential to inhibit the fungal pathogen. Therefore, the application of natural extracts should be focused and practically used as a control strategy in integrated pest management for plant disease, especially in chili production. This control measure is expected to reduce yield losses, operational cost while mitigating the environmental contamination due to overdose chemical residue.
Downloads
Download data is not yet available.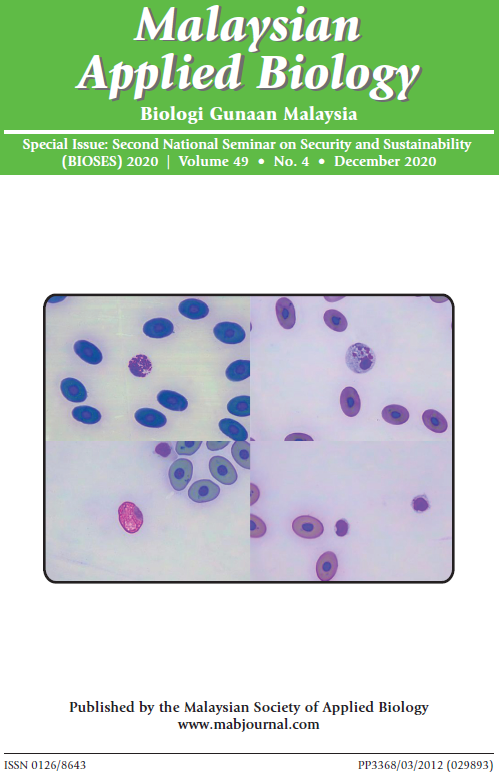 How to Cite
IBRAHIM, . N. F. ., YIN, W. K. ., SALEH, N. H. ., AHMAD, F. T. ., & LOB, S. (2020). ANTIFUNGAL ACTIVITY OF EXTRACTS AGAINST Colletotrichum SPECIES IN HARVESTED CHILI. Malaysian Applied Biology, 49(4), 241–246. https://doi.org/10.55230/mabjournal.v49i4.1627
Section
Research Articles
Copyright & Licensing
Any reproduction of figures, tables and illustrations must obtain written permission from the Chief Editor (wicki@ukm.edu.my). No part of the journal may be reproduced without the editor's permission