HYDROGEN PEROXIDE PROMOTES HUMAN SKIN FIBROBLAST CELLS MIGRATION AND PROLIFERATION AT LOWER DOSE VIA VEGF- AND TGF- GENE EXPRESSION
Keywords:
Hydrogen peroxide, proliferation, migration, skin fibroblast cells
Abstract
Hydrogen peroxide (H2O2) and oxygen (O2), reactive oxygen species (ROS) that are formed during wound healing. Excessive exposure to H2O2 may lead to oxidative stress in cells. However, the low or moderate dosage of H2O2 might help in the wound healing process. AlamarBlueTM cell viability, scratch assay, and qRT-PCR analysis were done to evaluate cell viability, cell migration and gene expression of VEGF- and TGF- on the skin fibroblast cells treated with H2O2 (0 to 50 µM), respectively. Our results have shown that the fibroblast cells were significantly proliferated and migrated after treated with H2O2 (12.5 µM, 25 µM, and 50 µM) at 48h and 72h of exposure when compared to control. Furthermore, VEGF- gene expression on treated fibroblast cells (50 µM) was found to be higher than control, whereas TGF- gene expression was slightly lower than control. This result suggesting that cell proliferation and migration was possibly due to the activation of VEGF- but not TGF- gene.
Downloads
Download data is not yet available.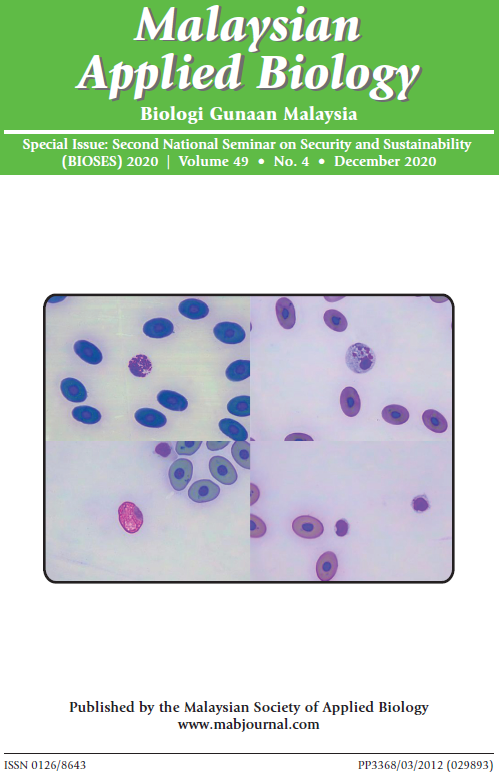 How to Cite
AZIZ, . N. S. M. ., STANSLAS, . J. ., & KADIR, N. H. A. . (2020). HYDROGEN PEROXIDE PROMOTES HUMAN SKIN FIBROBLAST CELLS MIGRATION AND PROLIFERATION AT LOWER DOSE VIA VEGF- AND TGF- GENE EXPRESSION. Malaysian Applied Biology, 49(4), 261–266. https://doi.org/10.55230/mabjournal.v49i4.1630
Section
Research Articles
Copyright & Licensing
Any reproduction of figures, tables and illustrations must obtain written permission from the Chief Editor (wicki@ukm.edu.my). No part of the journal may be reproduced without the editor's permission