CHALLENGES TO THE ADOPTION OF MODERN CROP BIOTECHNOLOGY: INSIGHTS FROM INDIAN AND MALAYSIAN GM REGULATORY FRAMEWORKS
Keywords:
Biosafety, regulation, GM crop, biotechnology, Malaysia, India
Abstract
The emerging use of genetic engineering technology led to the establishment of the Cartagena Protocol on Biosafety in 2001. India and Malaysia are signatories to the Protocol, having established regulatory measures governing the use of biotechnological genetic modification including regulation of genetically engineered crops from research to open cultivation and post-market surveillance. India and Malaysia have developed biosafety policies that display some similarities but also many differences, consequently impacting the practicalities of applying the technology to development and deployment of new crop varieties. The objective of this paper is to compare biosafety policies and regulatory frameworks that India and Malaysia have in place for the use of modern biotechnology. We highlight the implications of imposing rigid requirements as well as lacking harmonized policies on the approval process and trade flows, identifying these as potential barriers to the optimal use of modern crop biotechnology. We also briefly discuss how current interpretations of Living Modified Organisms and Genetically Modified Organisms in India and Malaysia will influence the pace of crops developed from new plant breeding techniques and propose options to regulate these technologies based on experience from other countries.
Downloads
Download data is not yet available.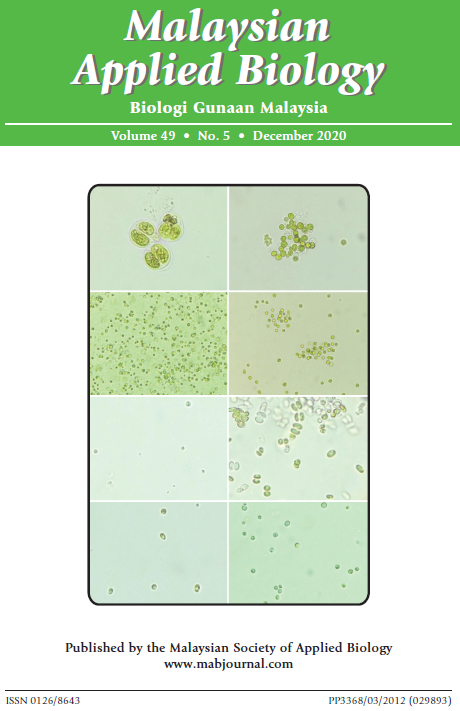 How to Cite
SINGH, J. K. D., JALALUDDIN, N. S. M. ., SANAN-MISHRA, N. ., & HARIKRISHNA, J. A. . (2020). CHALLENGES TO THE ADOPTION OF MODERN CROP BIOTECHNOLOGY: INSIGHTS FROM INDIAN AND MALAYSIAN GM REGULATORY FRAMEWORKS. Malaysian Applied Biology, 49(5), 1–9. https://doi.org/10.55230/mabjournal.v49i5.1632
Copyright & Licensing
Any reproduction of figures, tables and illustrations must obtain written permission from the Chief Editor (wicki@ukm.edu.my). No part of the journal may be reproduced without the editor's permission