MALAYSIAN READY-TO-EAT COOKED DISHES: CONSUMPTION PATTERNS AMONG ADULTS AND NUTRIENT COMPOSITION OF SELECTED HIGHLY CONSUMED DISHES
Keywords:
Consumption patterns, nutrient composition, Malaysian ready-to-eat cooked dishes, fried bihun, nasi lemak, roti canai
Abstract
Malaysian main dishes have been related to high carbohydrate and protein contents, and lack of vegetables. However, consumption patterns and nutrient composition of these types of dishes were scarcely reported. This study was conducted to determine consumption patterns and nutrient composition of Malaysian ready-to-eat cooked dishes. Consumption patterns were assessed using a food frequency questionnaire among 432 adults. The nutrient composition of the eight selected highly consumed dishes was determined by proximate analysis. The results showed that from 89 listed ready-to-eat cooked dishes, four dishes had moderate consumption levels, which were fried bihun (36.9), nasi lemak (34.7), roti canai (33.1) and Pattaya fried rice (30.2). The rest of the dishes had low consumption levels (<29.9). The nutrient composition was significantly different (p<0.05) between the dishes. Chinese fried rice had the highest carbohydrate content (33.65±8.04%) whilst chicken burgers had the highest protein (7.57 ± 0.63%), fat (11.02 ± 1.27%) and energy (235.43 ± 7.68 kcal) contents. No dishes were found to have a crude fibre content of more than 1.0%. In conclusion, Malaysian adults had a controllable consumption of local ready-to-eat cooked dishes as most of the dishes were consumed in low quantities. Nutrient compositions of dishes from this study are suggested to be added in Malaysian Food Composition Database for future reference of authorities and public for diet planning.
Downloads
Download data is not yet available.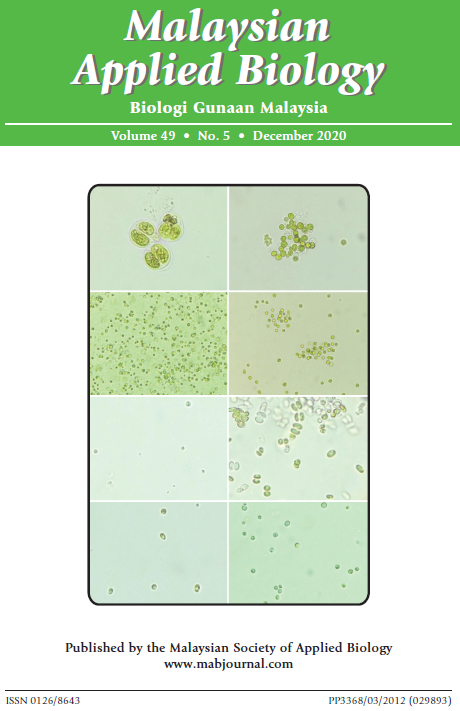 How to Cite
TARMIZI, S. F. M. ., DAUD, N. M. ., & RAHMAN, H. A. . (2020). MALAYSIAN READY-TO-EAT COOKED DISHES: CONSUMPTION PATTERNS AMONG ADULTS AND NUTRIENT COMPOSITION OF SELECTED HIGHLY CONSUMED DISHES. Malaysian Applied Biology, 49(5), 61–70. https://doi.org/10.55230/mabjournal.v49i5.1638
Section
Research Articles
Copyright & Licensing
Any reproduction of figures, tables and illustrations must obtain written permission from the Chief Editor (wicki@ukm.edu.my). No part of the journal may be reproduced without the editor's permission