COMPOSITION OF PLECOPTERA (INSECTA) FAUNA IN RIVERS AT DIFFERENT ALTITUDES OF HIGH MOUNTAIN IN PENINSULAR MALAYSIA
Keywords:
Aquatic insects, biodiversity, ecosystem services
Abstract
The composition of Plecoptera species in rivers at different altitudes in Malaysia is not well understood. Therefore, a study on the diversity of stonefly (Plecoptera) was carried out at Gunung Jerai, Kedah, and Gunung Ledang, Johor. The data were collected from three streams for each Gunung Ledang and Gunung Jerai making a total of six streams; Tupah, Bt Hampar, and Teroi rivers from Gunung Jerai while, Ulu Jementah, Jeram Tinggi, and Anak Air Puteh rivers from Gunung Ledang. Plecoptera nymphs were collected using the kick-net sampling technique. All rivers from both mountains recorded five genera out of three families but Kamimuria was found only in Gunung Jerai while Phanoperla was found in a river at Gunung Ledang. Anak Air Puteh River (975 m a.s.l.) recorded the greatest diversity of plecopterans genus (4) while Tupah River (200 m a.s.l.), reported the most diverse plecopterans at Gunung Jerai (4). Based on correlation analysis, the plecopterans composition is influenced by water temperature, pH, altitudes, COD, and BOD (p<0.05). Low pH values (acidic) at the highest region for both mountains (Teroi and Anak Air Puteh rivers) allowed an acid-tolerant plecopterans (Nemouridae) to thrive in those rivers. The decreasing diversity of Plecoptera taxa from low to high altitudes were affected by the water physicochemical parameters that vary in altitudes, and probably due to the type of vegetative structures.
Downloads
Download data is not yet available.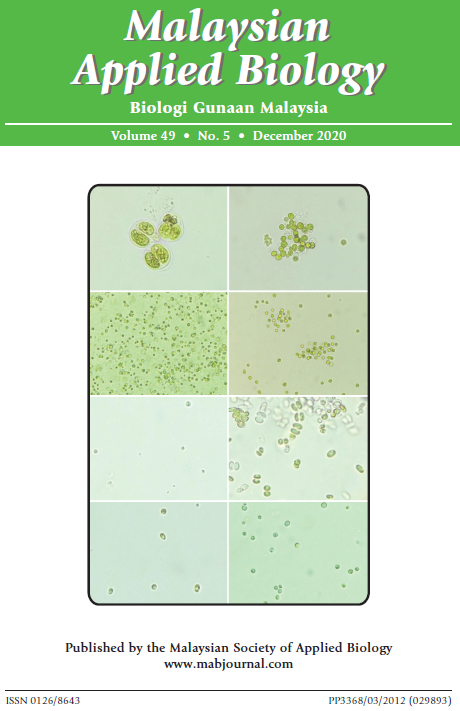 How to Cite
AMIRUDDIN, . M. ., & SUHAILA, . A. (2020). COMPOSITION OF PLECOPTERA (INSECTA) FAUNA IN RIVERS AT DIFFERENT ALTITUDES OF HIGH MOUNTAIN IN PENINSULAR MALAYSIA. Malaysian Applied Biology, 49(5), 81–87. https://doi.org/10.55230/mabjournal.v49i5.1640
Section
Research Articles
Copyright & Licensing
Any reproduction of figures, tables and illustrations must obtain written permission from the Chief Editor (wicki@ukm.edu.my). No part of the journal may be reproduced without the editor's permission