NON-ENZYMATIC ANTIOXIDANT FROM APPLE SNAIL (Pomacea maculata) EXTRACT
Keywords:
Apple snail metabolite, non-enzymatic antioxidant, LC-MS/MS, phenolic compound, freshwater mollusc, oxidative stress
Abstract
Pomacea sp. is a freshwater gastropod that is capable of withstanding oxidative stress during extreme environmental changes. The snail enzymatic oxidative responses have already been elucidated through biochemical, transcriptomics, and proteomics analysis. However, their non-enzymatic oxidative responses have yet to be elucidated. Therefore, this study aims to characterize the antioxidant activity and identify the non-enzymatic antioxidant compounds from Pomacea maculata. To address the aims, a polar and non-polar extraction of snail-whole body extract was conducted using methanol and chloroform, respectively. The antioxidant activity of both extracts was elucidated by Folin Ciocalteau (FC), DPPH, and reducing power assay. LC- MS/MS was then used to profile both extracts. The results demonstrated that the crude methanol extract (CME) contains a higher antioxidant capacity (FC=43.22 ± 3.02 mg GAE/ g extract, DPPH IC50=0.073 mg/mL, and reducing the power of methanol and chloroform extract are 0.361 ± 0.07 and 0.051 ± 0.003 respectively). Profiling of the snail metabolites by LC- MS/MS from both extracts resulted in the identification of uric acid and phenolic compounds . The former was detected at the highest intensity in CME followed by crude chloroform extract (CCE). The phenolic compounds, however, were hypothetically identified as plant metabolites. Therefore, the study suggested that antioxidant activity exhibited by P. maculata extracts were due to non-enzymatic compounds such as uric acid and phenolic compounds originated from the animal's metabolic activity and plants, respectively.
Downloads
Download data is not yet available.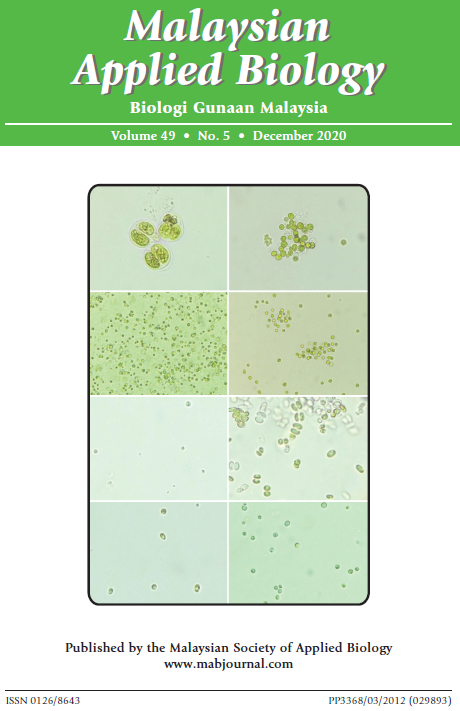 How to Cite
KHALIL, K. ., BAHARUM, S. N. ., FAZRY, S., SIDIK, N. M., & SAIRI, F. . (2020). NON-ENZYMATIC ANTIOXIDANT FROM APPLE SNAIL (Pomacea maculata) EXTRACT. Malaysian Applied Biology, 49(5), 115–124. https://doi.org/10.55230/mabjournal.v49i5.1643
Section
Research Articles
Copyright & Licensing
Any reproduction of figures, tables and illustrations must obtain written permission from the Chief Editor (wicki@ukm.edu.my). No part of the journal may be reproduced without the editor's permission