DISCOVERY OF COLD-ACTIVE PROTEASE FROM PSYCHROPHILIC BACTERIA ISOLATED FROM ANTARCTIC REGION FOR BIO-PROSPECTING
Keywords:
Cold-active protease, Antarctica, bio-prospecting, biotechnology
Abstract
The Antarctic region is a new frontier as natural sources for bio-prospecting purposes. Its extreme cold temperature may provide unique enzyme characteristics that have valuable potential for industrial and biotechnological applications. This study was designed to discover proteases that are activate and can work at very low temperatures. Soil samples from the Antarctic region were screened for protease activity on skim milk agar at 4°C. Bacteria that showed clear halo zone around the colonies were selected and identified through 16S rDNA sequencing. Out of 35 bacteria, 10 bacteria that showed rapid halo zone formation were selected and further analyzed by enzymatic assay. By using azocasein as a substrate, the reaction was measured using spectrophotometer at OD340 nm. Based on the 16S rDNA sequence, phylogenetic analysis showed that 88% of the bacteria producing protease were from Pseudomonas sp., 9% from Arthrobacter sp. and 3% from Paenibacillus sp. For enzymatic assay analysis, sample SC8 showed the highest protease activity compared to other 10 samples. This preliminary study successfully demonstrated cold active protease producers that can be further investigated for bioprospecting. In future, purification and characterization of this enzyme is required in order to optimize the enzyme activity.
Downloads
Download data is not yet available.
References
Barroca, M., Santos, G., Gerday, C. & Collins, T. 2017. Biotechnological Aspects of Cold-Active Enzymes. In Psychrophiles: From Biodiversity to Biotechnology, Springer, Cham. 461-475. DOI: https://doi.org/10.1007/978-3-319-57057-0_19
Brown, M.R.W. & Foster, J.S. 1970. A simple diagnostic milk medium for Pseudomonas aeruginosa. Journal of Clinical Pathology, 23(2): 172-177. DOI: https://doi.org/10.1136/jcp.23.2.172
Chen, Y.L., Lee, C.C., Lin, Y.L., Yin, K.M., Ho, C.L. & Liu, T. 2015. Obtaining long 16S rDNA sequences using multiple primers and its application on dioxin-containing samples. BioMed Central Bioinformatics, 16(18): S13. DOI: https://doi.org/10.1186/1471-2105-16-S18-S13
Dall'Osto, M., Ovadnevaite, J., Paglione, M., Beddows, D.C., Ceburnis, D., Cree, C., Cortés, P., Zamanillo, M., Nunes, S.O., Pérez, G.L. & Ortega-Retuerta, E. 2017. Antarctic sea ice region as a source of biogenic organic nitrogen in aerosols. Scientific Reports, 7(1): 1-10. DOI: https://doi.org/10.1038/s41598-017-06188-x
De Maayer, P., Anderson, D., Cary, C. & Cowan, D.A. 2014. Some like it cold: understanding the survival strategies of psychrophiles. European Molecular Biology Organization Reports, 15(5): 508-517. DOI: https://doi.org/10.1002/embr.201338170
Elleuche, S., Schröder, C., Sahm, K. & Antranikian, G. 2014. Extremozymes - biocatalysts with unique properties from extremophilic microorganisms. Current Opinion in Biotechnology, 29: 116-123. DOI: https://doi.org/10.1016/j.copbio.2014.04.003
Gokoglu, N., Yerlikaya, P., Ucak, I. & Yatmaz, H.A. 2017. Effect of bromelain and papain enzymes addition on physicochemical and textural properties of squid (Loligo vulgaris). Journal of Food Measurement and Characterization, 11(1): 347-353. DOI: https://doi.org/10.1007/s11694-016-9403-3
Harer, S.L., Bhatia, M.S. & Bhatia, N.M. 2018. Isolation, purification and partial characterization of thermostable serine alkaline protease from a newly isolated Bacillus thuringinsis-SH-II-1A. African Journal of Biotechnology, 17(7): 178-188. DOI: https://doi.org/10.5897/AJB2015.14831
Hashim, N.H.F., Mahadi, N.M., Illias, R.M., Feroz, S.R., Bakar, F.D.A. & Murad, A.M.A. 2018. Biochemical and structural characterization of a novel cold-active esterase-like protein from the psychrophilic yeast Glaciozyma antarctica. Extremophiles, 22(4): 607-616. DOI: https://doi.org/10.1007/s00792-018-1021-z
Kim, E.H., Cho, K.H., Lee, Y.M., Yim, J.H., Lee, H.K., Cho, J.C. & Hong, S.G. 2010. Diversity of cold-active protease-producing bacteria from arctic terrestrial and marine environments revealed by enrichment culture. The Journal of Microbiology, 48(4): 426-432. DOI: https://doi.org/10.1007/s12275-010-0015-z
Latip, M.A.A., Hamid, A.A.A. & Nordin, N.F.H. 2019. Microbial hydrolytic enzymes: In silico studies between polar and tropical regions. Polar Science, 20: 9-18. DOI: https://doi.org/10.1016/j.polar.2019.04.003
Li, Y., Pan, Y., She, Q. & Chen, L. 2013. A novel carboxyl-terminal protease derived from Paenibacillus lautus CHN26 exhibiting high activities at multiple sites of substrates. BioMed Central Biotechnology, 13(1): 89. DOI: https://doi.org/10.1186/1472-6750-13-89
Martínez-Rosales, C. & Castro-Sowinski, S. 2011. Antarctic bacterial isolates that produce coldactive extracellular proteases at low temperature but are active and stable at high temperature. Polar Research, 30(1): 7123. DOI: https://doi.org/10.3402/polar.v30i0.7123
Montes, M.J., Mercadé, E., Bozal, N. & Guinea, J. 2004. Paenibacillus antarcticus sp. nov., a novel psychrotolerant organism from the Antarctic environment. International Journal of Systematic and Evolutionary Microbiology, 54(5): 1521-1526. DOI: https://doi.org/10.1099/ijs.0.63078-0
Naveena, B.M., Mendiratta, S.K. & Anjaneyulu, A.S.R. 2004. Tenderization of buffalo meat using plant proteases from Cucumis trigonus Roxb (Kachri) and Zingiber officinale roscoe (Ginger rhizome). Meat Science, 68(3): 363-369. DOI: https://doi.org/10.1016/j.meatsci.2004.04.004
Park, H.J., Han, S.J., Yim, J.H. & Kim, D. 2018. Characterization of an Antarctic alkaline protease, a cold-active enzyme for laundry detergents. The Microbiological Society of Korea, 54(1): 60-68.
Pindi, P.K., Manorama, R., Begum, Z. & Shivaji, S. 2010. Arthrobacter antarcticus sp. nov., isolated from an Antarctic marine sediment. International Journal of Systematic and Evolutionary Microbiology, 60(10): 2263-2266. DOI: https://doi.org/10.1099/ijs.0.012989-0
Reddy, G.S., Matsumoto, G.I., Schumann, P., Stackebrandt, E. & Shivaji, S. 2004. Psychrophilic pseudomonads from Antarctica: Pseudomonas antarctica sp. nov., Pseudomonas meridiana sp. nov. and Pseudomonas proteolytica sp. nov. International Journal of Systematic and Evolutionary Microbiology, 54(3): 713-719. DOI: https://doi.org/10.1099/ijs.0.02827-0
Rodríguez-Díaz, M., Lebbe, L., Rodelas, B., Heyrman, J., De Vos, P. & Logan, N.A. 2005. Paenibacillus wynnii sp. nov., a novel species harbouring the nifH gene, isolated from Alexander Island, Antarctica. International Journal of Systematic and Evolutionary Microbiology, 55(5): 2093-2099. DOI: https://doi.org/10.1099/ijs.0.63395-0
Siddiqui, K.S. & Cavicchioli, R. 2006. Coldadapted enzymes. Annual Review of Biochemistry, 75: 403-433. DOI: https://doi.org/10.1146/annurev.biochem.75.103004.142723
Smykla, J., Drewnik, M., Szarek-Gwiazda, E., Hii, S.Y., Knap, W. & Emslie, S.D. 2015. Variation in the characteristics and development of soils at Edmonson Point due to abiotic and biotic factors, northern Victoria Land, Antarctica. Catena, 132: 56-67. DOI: https://doi.org/10.1016/j.catena.2015.04.011
Tang, Y., Wu, P., Jiang, S., Selvaraj, J.N., Yang, S. & Zhang, G. 2019. A new cold-active and alkaline pectate lyase from Antarctic bacterium with high catalytic efficiency. Applied Microbiology and Biotechnology, 1-11. DOI: https://doi.org/10.1007/s00253-019-09803-1
Vero, S., Garmendia, G., Martínez-Silveira, A., Cavello, I. & Wisniewski, M. 2019. Yeast Activities Involved in Carbon and Nitrogen Cycles in Antarctica. In The Ecological Role of Micro-organisms in the Antarctic Environment, Springer, Cham. 45-64. DOI: https://doi.org/10.1007/978-3-030-02786-5_3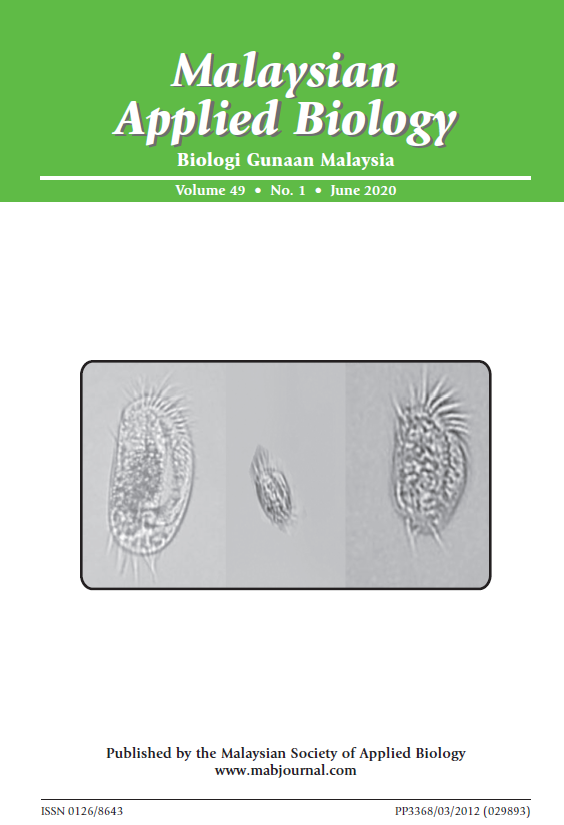 How to Cite
ABD LATIP, M. A. ., ALIAS, S. A. ., JERZY, . S., YUSOF, F. ., MOHAMAD, M. A. N. ., & NORDIN, N. F. H. . (2020). DISCOVERY OF COLD-ACTIVE PROTEASE FROM PSYCHROPHILIC BACTERIA ISOLATED FROM ANTARCTIC REGION FOR BIO-PROSPECTING. Malaysian Applied Biology, 49(1), 55–60. https://doi.org/10.55230/mabjournal.v49i1.1654
Section
Research Articles
Copyright & Licensing
Any reproduction of figures, tables and illustrations must obtain written permission from the Chief Editor (wicki@ukm.edu.my). No part of the journal may be reproduced without the editor's permission