GENETIC DIVERSITY OF GREEN CHIRETA (Andrographis paniculata (Burm.f.) Wall. Ex Nees.) FROM INDONESIA BASED ON ISSR AND RAPD MARKERS
Keywords:
Andrographis paniculata, genetic diversity, ISSR, medicinal plant, RAPD
Abstract
Green chireta or Andrographis paniculata (Burm.f.) Wall. Ex Nees. is a medicinal plant widely used by traditional communities in Indonesia. The purpose of this study was to analyze the genetic diversity of A. paniculata in five mainlands from Indonesia using ISSR and RAPD markers. A total of 50 accessions of A. paniculata were used, DNA was amplified using six ISSR and six RAPD primers, generating 61 loci and 43 loci respectively. Genotype data scoring resulted in the percentage of polymorphism, Polymorphic Information Content, Shannon's Information Index and unbiased expected heterozygosity. The genetic variation between the locations was measured with Principal Coordinate Analysis (PCoA) and pairwise Nei's unbiased genetic distance. The data from this study revealed that the variation and diversity from accessions within the same island were low. The genetic variation was higher between accessions from different islands. Analysis of molecular variance (AMOVA) was used to calculate the distribution of the variation between and within the A. paniculata population. The results showed the variation derived from the same location was 34% and from a different location was 66%. Genetic diversity provided information to help the further development and cultivation of A. paniculata in Indonesia
Downloads
Download data is not yet available.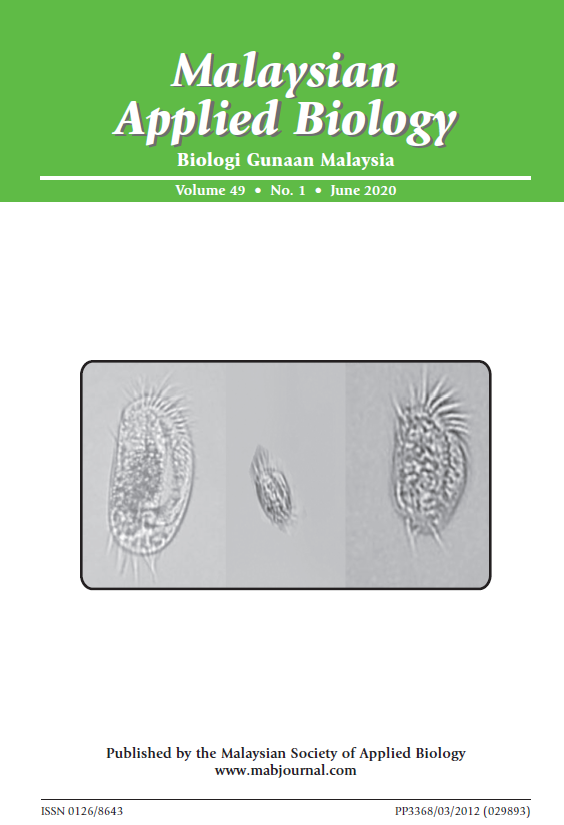 How to Cite
ARIF, M. F. ., SUBOSITI, D. ., SARI, A. N. ., ARISTYA, G. R. ., LESMANA, I. ., & SRI KASIAMDARI, R. . (2020). GENETIC DIVERSITY OF GREEN CHIRETA (Andrographis paniculata (Burm.f.) Wall. Ex Nees.) FROM INDONESIA BASED ON ISSR AND RAPD MARKERS. Malaysian Applied Biology, 49(1), 61–68. https://doi.org/10.55230/mabjournal.v49i1.1655
Section
Research Articles
Copyright & Licensing
Any reproduction of figures, tables and illustrations must obtain written permission from the Chief Editor (wicki@ukm.edu.my). No part of the journal may be reproduced without the editor's permission