PHYTOCHEMICAL SCREENING, ANTIOXIDANT AND ANTIBACTERIAL ACTIVITIES OF EXTRACTS AND FRACTIONS OF Dillenia suffruticosa LEAVES
Keywords:
Dillenia suffruticosa, Dilleniaceae, antioxidant activity, antibacterial activity, flavonoids, phenolics, phytochemical screening
Abstract
Dillenia suffruticosa or 'Simpur bini' is known to have ethnomedicinal properties and had been used traditionally to heal wounds, relieve fever and rheumatism. There has been limited studies carried out on this species, therefore, this study aims to evaluate the phytochemical contents, antioxidant and antibacterial activities of aqueous extract, methanol extract and its fractions obtained from the leaves of D. suffruticosa. The dried leaves were extracted using methanol before successive solvent partitioning was carried out on the extract using hexane, chloroform, ethyl acetate and diethyl ether. In addition to this, aqueous decoction was conducted. The antioxidant activities were determined using Total Phenolic Content (TPC), Total Flavonoid Content (TFC) and 2,2-diphenyl-1-picryl-hydrazyl-hydrate (DPPH) free radical scavenging methods. Phytochemical screening had shown that most of the extracts and fractions contained alkaloids, steroids, phenolics, flavonoids and saponins. The diethyl ether and ethyl acetate fractions showed higher TPC and TFC values. The diethyl ether and ethyl acetate fractions also showed higher antioxidant activities determined via DPPH assay. Antibacterial activities determined using disc diffusion assay showed the methanol extract and its fractions had antibacterial activity against Staphylococcus aureus, with the diethyl ether fraction having comparable activity with the standard antibiotic streptomycin. However, inhibition against Bacillus subtilis was only observed in hexane, chloroform and diethyl ether fractions. No inhibition was observed against Escherichia coli and Pseudomonas aeruginosa. This study identified the diethyl ethyl and ethyl acetate fractions of D. suffruticosa leaves as potential sources of bioactive compounds. Further investigations on the bioassay-guided isolation of bioactive compounds of this species may lead to the discovery of new pharmaceutical or effective antimicrobial agents.
Downloads
Download data is not yet available.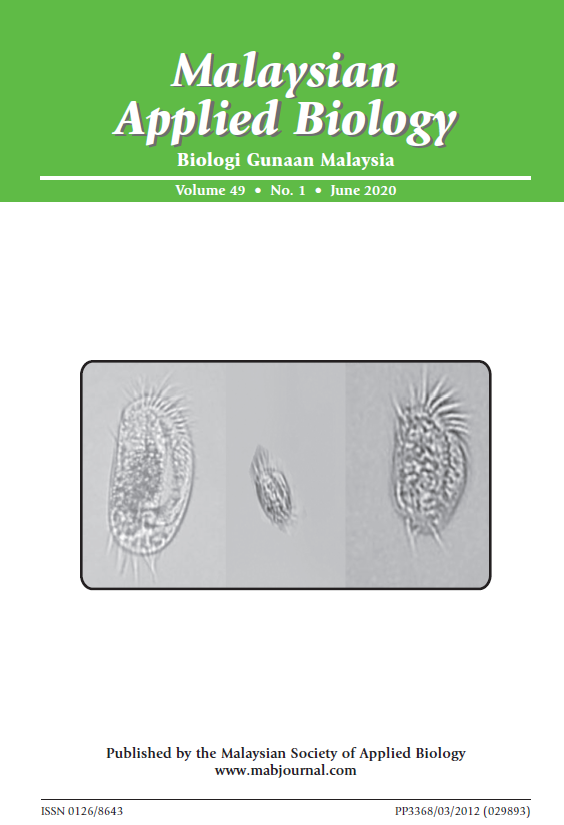 How to Cite
YAKOP, F. ., SHEIKH ABDUL HAMID, M. H. ., AHMAD, N. ., ABDUL MAJID, M. ., PILLAI, M. K. ., & TAHA, H. . (2020). PHYTOCHEMICAL SCREENING, ANTIOXIDANT AND ANTIBACTERIAL ACTIVITIES OF EXTRACTS AND FRACTIONS OF Dillenia suffruticosa LEAVES. Malaysian Applied Biology, 49(1), 121–130. https://doi.org/10.55230/mabjournal.v49i1.1663
Section
Research Articles
Copyright & Licensing
Any reproduction of figures, tables and illustrations must obtain written permission from the Chief Editor (wicki@ukm.edu.my). No part of the journal may be reproduced without the editor's permission