ACYL HOMOSERINE LACTONE LACTONASE BACTERIA POTENTIAL AS BIOCONTROL AGENT OF SOFT ROT INFECTION
Keywords:
Acyl-Homoserine lactone, lactonase, C. violaceum, D. dadantii, Quorum quencing
Abstract
The virulence gene expression of phytopathogenic bacteria, such as Dickeya dadantii is regulated by quorum sensing (QS) mechanism. The QS mechanism is induced by acyl homoserine lactone (AHL) that is universal autoinducer of Gram-negative bacteria. Degradation of AHL compound can be used to control the virulence of phytopathogenic bacteria. The enzyme of AHL lactonase is encoded by the aiiA gene and can degrade the lactone ring of AHL. This study was aimed to characterize aiiA gene encoding AHL lactonase from 20 isolates of shrimp pond and soil forest, Indonesia and examine the isolates ability to reduce violacein pigment of Chromobacterium violaceum and soft rot disease symptoms caused by D. dadantii. The results showed nine bacterial isolates (B4, B10, B11, B13, B14, B16, B17, B18 and B19) containing the aiiA gene encoding AHL lactonase. Based on 16S rRNA gene identification, 9 isolates had the highest similarity with Bacillus toyonensis, B.cereus, B. thuringiensis, B. mycoides and B. subtilis. These isolates had the capability to reduce the formation of violacein pigment and the symptoms of soft rot disease in potatoes. These results show that the AHL lactonase produced by these isolates can be used as Quorum Quenching (QQ) agent to inhibit the QS mechanism
Downloads
Download data is not yet available.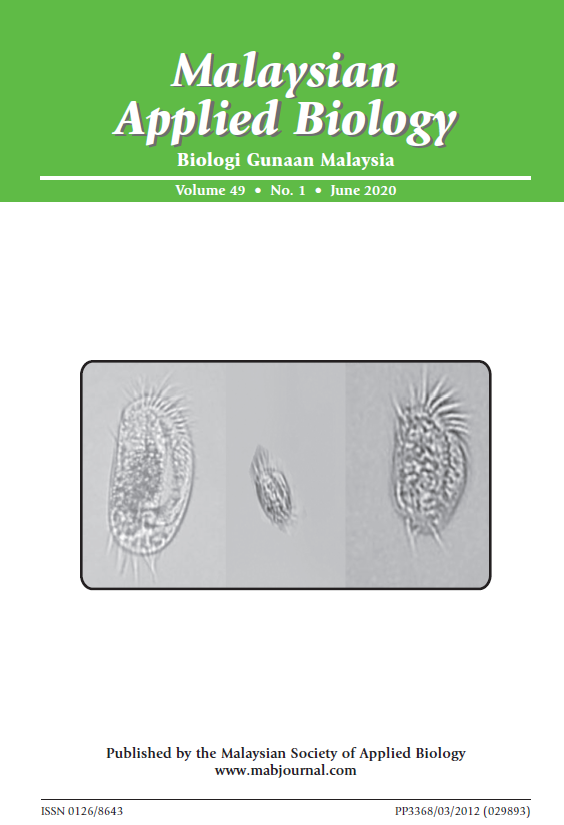 How to Cite
SURYANTI, E. ., WAHYUDI, A. T. ., AKHDIYA , A. ., & RUSMANA, I. (2020). ACYL HOMOSERINE LACTONE LACTONASE BACTERIA POTENTIAL AS BIOCONTROL AGENT OF SOFT ROT INFECTION. Malaysian Applied Biology, 49(1), 131–140. https://doi.org/10.55230/mabjournal.v49i1.1664
Section
Research Articles
Copyright & Licensing
Any reproduction of figures, tables and illustrations must obtain written permission from the Chief Editor (wicki@ukm.edu.my). No part of the journal may be reproduced without the editor's permission