IMMOBILIZATION OF CLEA-LIPASE OF Hevea brasiliensis ONTO MAGNETIC NANOPARTICLES FOR ENHANCED BIOCATALYTIC PERFORMANCE
Keywords:
Skim latex, Skim latex serum, Hevea brasiliensis, CLEA-lipase, magnetite, magnetic nanoparticles (MNPs), MNP-CLEA-lipase
Abstract
Skim latex from Hevea brasiliensis consists of many useful proteins and enzymes that can be utilized to produce value-added products for industrial purposes. In this project, to enhance the properties of the recovered lipase from skim latex serum, this enzyme was immobilized via cross-linked enzyme aggregates (CLEA) technology, and supported by magnetic nanoparticles (MNP-CLEA-lipase). MNP-CLEA-lipase was prepared by chemical cross-linking of enzyme aggregates with amino functionalized MNP, which can easily be separated from the spent media after use by magnetic field. The performances of the newly produced MNP-CLEA-lipase were compared with its unsupported counterpart, CLEA-lipase. The optimum conditions for the preparation of CLEA-lipase was carried out by using 45% saturated (NH4)2SO4 and 50 mM glutaraldehyde (GA), whereas for MNP-CLEA-lipase, it was carried out by using 70% saturated (NH4)2SO4 and 60 mM GA. The optimum pH changes from 6 to 8 when CLEA-lipase is supported, while achieving a maximum of 69.92% residual activity (RA) compared to 20.66% for the unsupported CLEA-lipase. However, the optimum temperature for both are the same (35°C), with MNP-CLEA-lipase achieving 85.89% RA compared to 31.91% for the unsupported ones. Stability studies carried out on both showed that MNP-CLEA-lipase has higher thermal (25–60°C) and pH (5–10) stabilities compared to its unsupported counterparts. As for the reusability of enzymes, MNP-CLEA-lipase retained 56.46% of residual activity after six cycles of reuse. The FESEM results showed that the MNP-CLEA-lipase is a Type 2, which is less structured, and this has bearings towards its activities. FTIR analysis showed the presence of Amide I and Amide II bands in MNP-CLEA-lipase, originating from the newly formed cross-linked between the silanized MNP and CLEA-lipase. Overall, MNP supported CLEA-lipase showed better performance compared to the unsupported biocatalyst.
Downloads
Download data is not yet available.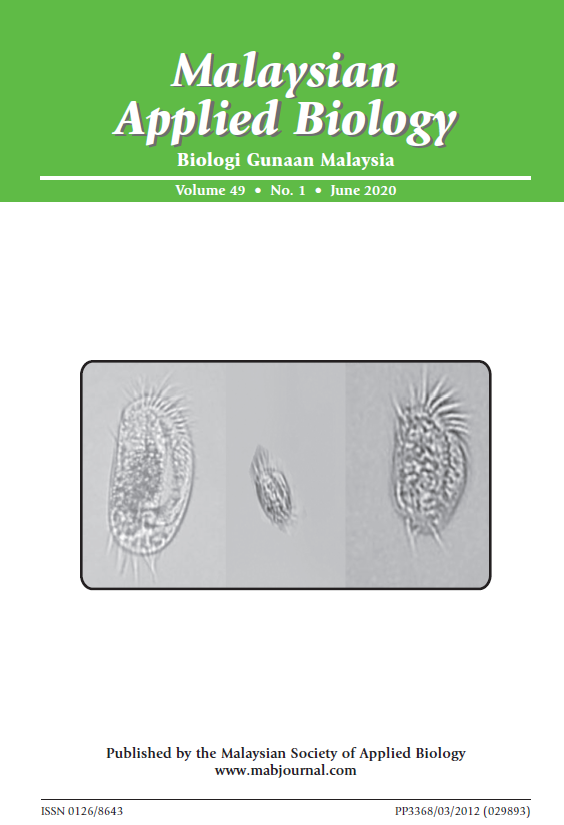 How to Cite
AB AZIZ AL SAFI , N. A. ., & YUSOF, F. (2020). IMMOBILIZATION OF CLEA-LIPASE OF Hevea brasiliensis ONTO MAGNETIC NANOPARTICLES FOR ENHANCED BIOCATALYTIC PERFORMANCE. Malaysian Applied Biology, 49(1), 141–152. https://doi.org/10.55230/mabjournal.v49i1.1665
Section
Research Articles
Copyright & Licensing
Any reproduction of figures, tables and illustrations must obtain written permission from the Chief Editor (wicki@ukm.edu.my). No part of the journal may be reproduced without the editor's permission