HAEMATOLOGY PROFILE OF FRUIT BATS Cynopterus spp. FROM SPECIAL REGION YOGYAKARTA, INDONESIA
Keywords:
Cynopterus brachyotis, erythrocyte, haematological data
Abstract
Cynopterus spp. is a fruit bats genus that is widely distributed in Asia and plays an important role as pollinator and seed disperser of plants in different habitats. Haematological data is affected by sex, age, and external factors. It is also needed in examination of the health conditions, body defenses, and physiological conditions of bats. Complete haematological data of this genus in Indonesia remain a lack of information. This study aimed to analyze the haematological profile of Cynopterus spp. Bats were captured using mist nets at three different habitat types in the special region of Yogyakarta, Indonesia. Total 31 individuals from four species Cynopterus spp. were trapped. Blood samples were collected from the intracardiac. 20 parameters including the density of erythrocyte, leukocyte, and platelet profiles were analyzed. The result indicated red cell distribution width standard deviation counts between juvenile and adult, leukocyte number and platelet number between urban and non-urban of C. brachyotis were significantly different. Those results are presumed to be associated with age stage and environmental conditions. A large number of fruit bats individuals from different habitat is necessary for further study.
Downloads
Download data is not yet available.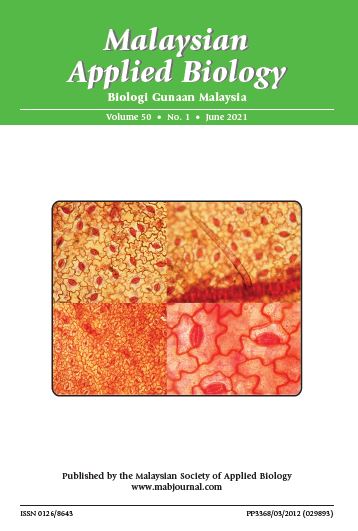 How to Cite
MUBAROK, H. ., NUR HANDAYANI, N. S., ARISURYANTI, T., & MARYANTO, I. (2021). HAEMATOLOGY PROFILE OF FRUIT BATS Cynopterus spp. FROM SPECIAL REGION YOGYAKARTA, INDONESIA. Malaysian Applied Biology, 50(1), 105–113. https://doi.org/10.55230/mabjournal.v50i1.17
Section
Research Articles
Copyright & Licensing
Any reproduction of figures, tables and illustrations must obtain written permission from the Chief Editor (wicki@ukm.edu.my). No part of the journal may be reproduced without the editor's permission