CURATIVE POTENTIAL OF Zingiber zerumbet ON PARACETAMOL-INDUCED HEPATOTOXICITY
Keywords:
Zingiber zerumbet, paracetamol (PCM), hepatotoxicity, liver function test (LFT), zerumbone
Abstract
Zingiber zerumbet is a type of wild ginger known worldwide for its medicinal values. Its constituents found in the rhizome suggest potent antioxidant and anti-inflammatory activities. As such, this study investigated the possible curative effects of Zingiber zerumbet rhizome ethanolic extract (ZZ) on Paracetamol (PCM)-induced hepatotoxicity. The plant was obtained from Sendayan, Negeri Sembilan and had been identified by the Biodiversity Unit of Universiti Putra Malaysia (UPM), Malaysia. Its rhizomes were processed and extracted with 80% ethanol. The chemical profile of the extract was determined using Gas Chromatography-Mass Spectrometry (GC-MS) analysis, while hepatotoxic rats were treated orally with varied extract doses (250, 350, and 450 mg/kg bwt) for a week, and N-acetyl-L-cysteine (NAC) was used as reference drug. At the end of the treatment, sera samples were collected for liver function tests (LFTs). The chemical profile of the extract determined via GC-MS analysis revealed three major compounds that contributed to the bioactivity of the plant. Zerumbone had the highest component concentration (95%) in the extract for GC-MS study. Significant improvements in LFT parameters (alkaline phosphatase (ALP), alanine transaminase (ALT), aspartate aminotransferase (AST), and total protein (TP) levels) were also observed in groups that received 350 and 450 mg/kg bwt extract, wherein the 350 mg/kg bwt dose appeared to be the most effective dose that reduced liver enzyme markers in PCM-induced hepatotoxic rats. Overall, Z. zerumbet exhibited the most optimum hepatocurative potential in enhancing liver functions amidst PCM-induced hepatotoxic rats at 350 mg/kg bwt dose.
Downloads
Download data is not yet available.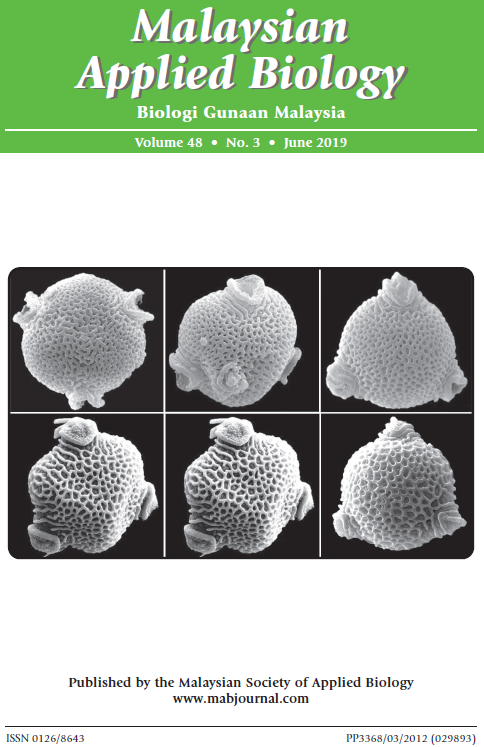 How to Cite
SHARKAWI, N. A. ., ISMAIL, N. H., MD JANI, N. H. ., DAUD, D., HASHIM, N. ., SALLEH, A., & HASHIM, H. (2019). CURATIVE POTENTIAL OF Zingiber zerumbet ON PARACETAMOL-INDUCED HEPATOTOXICITY. Malaysian Applied Biology, 48(3), 11–17. Retrieved from https://jms.mabjournal.com/index.php/mab/article/view/1834
Section
Research Articles
Copyright & Licensing
Any reproduction of figures, tables and illustrations must obtain written permission from the Chief Editor (wicki@ukm.edu.my). No part of the journal may be reproduced without the editor's permission