POLLEN MORPHOLOGY AND HARMOMEGATHIC CHARACTERS OF Byttneria LÖFL. SPECIES (STERCULIACEAE S. S: SUBFAM. BYTTNERIOIDEAE)
Keywords:
Palynology, pollen micromorphology, Byttneria, Byttnerioideae, Sterculiaceae
Abstract
A palynological study was conducted on seven species of Byttneria Löfl. The objectives of this study was to understand the variation in micromorphological and harmomegarthic characteristics of pollen in Byttneria species in Malaysia and Singapore. In doing so, more information on the species of Sterculiaceae s.s family can be added. Dried pollen samples of seven Byttneria species were selected in this study, namely B. scabrida Ridl., B. pilosa Roxb., B. elliptica Pohl, B. curtisii Oliv., B. reinwardtii Korth., B. maingayi Mast. and B. jackiana Wall. Methods involved were acetolysis techniques, single-grain technique, and observation under light microscope and scanning electron microscope. Common characters shared by all studied species were porate pollen class, triporate aperture, and triangular outline. Variation in pollen characteristics includes ratio of exine thickness, pollen size, pore width and height, amb; shape and measurements. These characters are valuable in assisting identification of taxa group that can be used to differentiate between species in the genus. This study proved that pollen morphological characteristics of Byttneria have taxonomic values in identification and differentiation of species in subfamily Byttnerioideae and Sterculiaceae s. s.
Downloads
Download data is not yet available.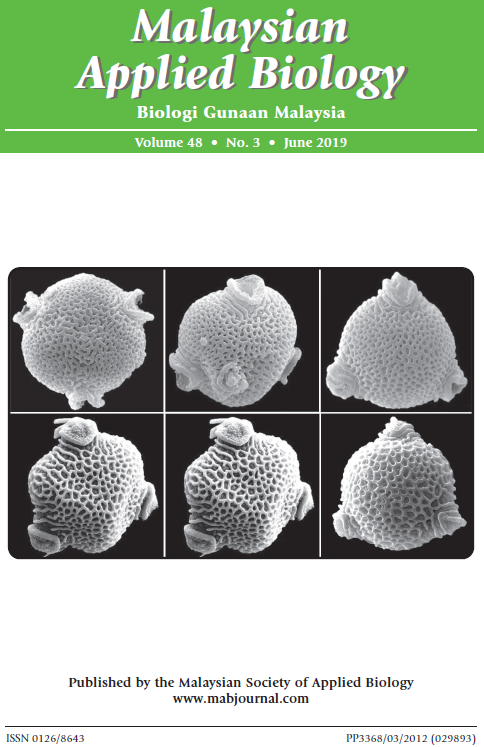 How to Cite
AMIRUL-AIMAN, A., NORAINI, T., NURUL-AINI, C., CHUNG, R., PHUPUMIRAT, W., RUZI, A., BUNAWAN, H., IDRIS, S., & SUHANIZA, R. (2019). POLLEN MORPHOLOGY AND HARMOMEGATHIC CHARACTERS OF Byttneria LÖFL. SPECIES (STERCULIACEAE S. S: SUBFAM. BYTTNERIOIDEAE). Malaysian Applied Biology, 48(3), 19–26. Retrieved from https://jms.mabjournal.com/index.php/mab/article/view/1835
Section
Research Articles
Copyright & Licensing
Any reproduction of figures, tables and illustrations must obtain written permission from the Chief Editor (wicki@ukm.edu.my). No part of the journal may be reproduced without the editor's permission