COMPARISON OF GENETIC DIVERSITY OF LEPTIN GENE BETWEEN WILD GOAT AND DOMESTIC GOAT BREEDS IN IRAN
Keywords:
Diversity, domestic goat, leptin gene, PCR-RFLP, wild goat
Abstract
Leptin is a polypeptide which is mostly secreted by the white adipose tissue and a little by gastrointestinal tract and placenta, plays an important role for controlling body weight, feed intake, immunity, milk production, and reproduction. The aim of this study was to investigate the exon 2 of the leptin gene polymorphism in Iranian wild and domestic goats using PCR- RFLP. Blood samples were collected from 14 wild and domestic goat breeds including (Cashmere Abadeh, Torki-Ghahghaei, Naeini, Robati, Nadoushani, Adani, Shahrbabaki, Birjandi, China goat, Sannen, Pakistani, Raeini cashmere, Najdi, and Wild goat) and then genomic DNA was extracted. A 152 bp fragment from exon 2 of the leptin gene was amplified. PCR products were digested with Hinf I restriction enzymes and was separated and visualized on the agarose gels. From possible three genotypes (TT, TC, and CC), only two genotypes TT and CC were observed in 14 studied domestic and wild populations with the genotype frequency of 95% and 5% respectively. The number of observed alleles, number of effective alleles, Nei's Index and Shanon's Index were 2, 1.10, 0.10 and 0.20 respectively. The studied populations were not found to be in Hardy- Weinberg equilibrium. Our investigation demonstrated that TT genotype and T allele had a very high frequency (0.95) in studied goats. Hence, it can be concluded that this finding can provide the basis for selection when considering evolution and differentiation among breeds, however, further studies should be carried out on a larger population of different domestic and wild breeds to verify the final conclusions.
Downloads
Download data is not yet available.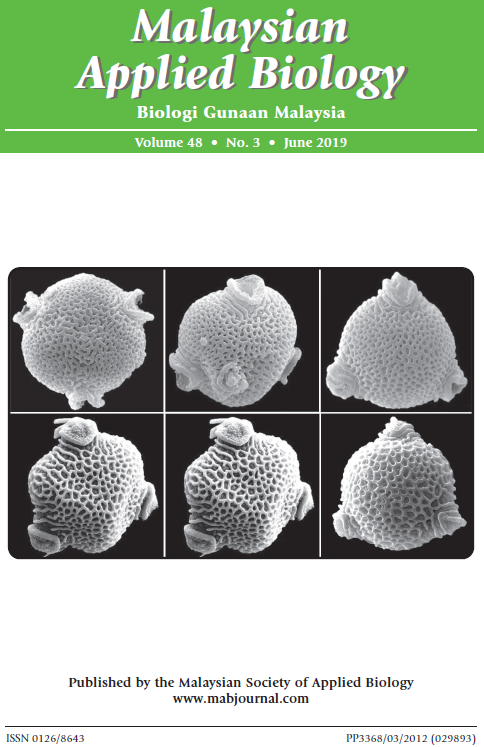 How to Cite
VAZIR, N. E. A. ., KOSHKOOIEH, A. E. ., MEHRJERDI, A. A., MOHAMMADABADI, M., BABENKO, O. I. ., BUSHTRUK, M. V., TKACHENKO, S. V., STAVETSKA, R. V., & KLOPENKO, N. I. (2019). COMPARISON OF GENETIC DIVERSITY OF LEPTIN GENE BETWEEN WILD GOAT AND DOMESTIC GOAT BREEDS IN IRAN. Malaysian Applied Biology, 48(3), 85–93. Retrieved from https://jms.mabjournal.com/index.php/mab/article/view/1843
Section
Research Articles
Copyright & Licensing
Any reproduction of figures, tables and illustrations must obtain written permission from the Chief Editor (wicki@ukm.edu.my). No part of the journal may be reproduced without the editor's permission