MOLECULAR SYSTEMATIC POSITION OF THE SARAWAK MALAY BADGER, Mydaus javanensis
Keywords:
Malay Badger, Mydaus javanensis, Teledu, Malayan Stink Badger, Mephitidae
Abstract
The presence of the Malay badger, Mydaus javanensis, has been recorded for nearly 100 years in Sarawak, Malaysia, but it has rarely been seen. In addition, this animal is among the least studied carnivores in Borneo. The Malay badger is not protected under the Sarawak Wildlife Protection Ordinance. To initiate conservation efforts, we conducted a phylogenetic analysis to characterize the Malay badger's genetic attributes. In August 2013, a Malay badger was trapped at Mentung Berawan, Serian, and sent to the Matang Wildlife Centre. We managed to collect its genetic materials and sequenced 356 bp of 12S rRNA and 405 bp of cytochrome b (Cyt b) genes. We portrayed its phylogenetic relationships with other Mephitidae family members and calculated its molecular divergence. Our results indicated that the Malay badger could be distinguished from its sister taxon, M. marchei. The teledu clade diverged 2.71 million years ago, after the divergences of Mephitis mephitis and Spilogale putorius.
Downloads
Download data is not yet available.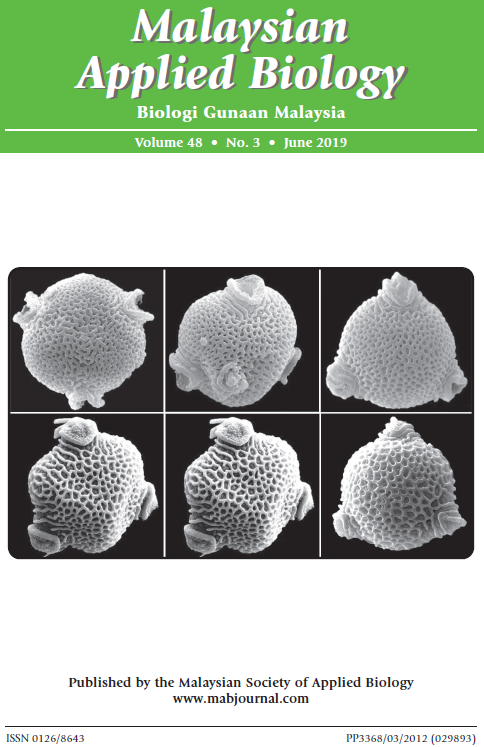 How to Cite
MD-ZAIN, B. M., AIFAT, N. R., ABDUL-LATIFF, M. A. B., MOHD-YUSOF, N. S., & AMPENG, A. . (2019). MOLECULAR SYSTEMATIC POSITION OF THE SARAWAK MALAY BADGER, Mydaus javanensis. Malaysian Applied Biology, 48(3), 125–132. Retrieved from https://jms.mabjournal.com/index.php/mab/article/view/1847
Section
Research Articles
Copyright & Licensing
Any reproduction of figures, tables and illustrations must obtain written permission from the Chief Editor (wicki@ukm.edu.my). No part of the journal may be reproduced without the editor's permission