CHARACTERIZATION OF LINAMARIN-UTILIZING BACTERIAL STRAINS ASSOCIATED WITH DETOXIFICATION OF CYANOGENS IN WASTE EFFLUENTS
Keywords:
Cyanide molecule, Detoxification, Bacillus pumilus, Linamarase, Linamarin, Waste Effluent, Bioremediation
Abstract
The cyanide molecule is one of the dominant pollutants in the environment. This study aimed to isolate and identify the bacterial strains capable of utilizing linamarin and to assess their roles in the detoxification of cyanogenic substances in waste effluents in Lagos, Nigeria. Two bacterial strains, Bacillus pumilus strain WOB3 KX774195 and Bacillus pumilus strain WOB7 KX774196 were isolated from cassava wastewater samples by standard microbiological procedure. They were identified on the basis of morphological and biochemical characteristics and 16S rRNA gene sequencing. Microbial growth assessment was performed in triplicates under aerobic batch conditions. The generation times of strains WOB3 and WOB7 were 40.71 and 10.88 d; with specific growth rates of 0.025 and 0.064 d-1 respectively on linamarin. Strain WOB3 had maximum growth of 0.552 (OD600nm) by day 12 at pH 6.2. Likewise, strain WOB7 recorded optimum growth of 1.276 (OD600 nm) by day 10 at pH 6.4. The maximum values obtained for linamarase activities by WOB3 and WOB7 were 3.3 x 10-2 mgmL-1min-1 and 7.61 x 10-2 mgmL-1min-1 respectively. The results from this study suggest that the bacterial isolates possess degradative capacities, which could be deployed in the bioremediation of cassava processing wastes.
Downloads
Download data is not yet available.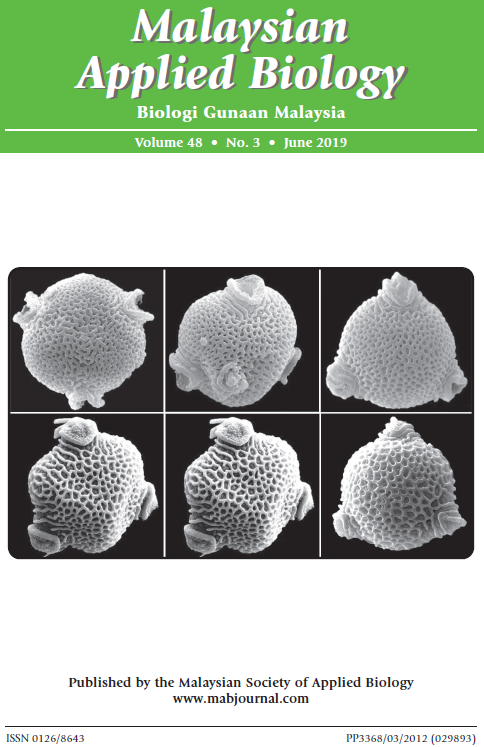 How to Cite
OGUNYEMI ADEWALE, K., SAMUEL TITILOLA, A., AMUND OLUKAYODE, O., & ILORI MATHEW, O. (2019). CHARACTERIZATION OF LINAMARIN-UTILIZING BACTERIAL STRAINS ASSOCIATED WITH DETOXIFICATION OF CYANOGENS IN WASTE EFFLUENTS. Malaysian Applied Biology, 48(3), 157–165. Retrieved from https://jms.mabjournal.com/index.php/mab/article/view/1851
Section
Research Articles
Copyright & Licensing
Any reproduction of figures, tables and illustrations must obtain written permission from the Chief Editor (wicki@ukm.edu.my). No part of the journal may be reproduced without the editor's permission