LEAF ANATOMICAL RESPONSES TO DROUGHT STRESS CONDITION IN HYBRID SUGARCANE LEAF (Saccharum officinarum 'KK3')
Keywords:
sugarcane, leaf anatomy, adaptation, drought stress
Abstract
Comparative leaf anatomy of sugarcane (Saccharum officinarum 'KK3') was investigated under early drought stress condition between 30-90 days of planting. Forty anatomical characteristics were studied using a light microscope with significance evaluated by numerical analysis. Results indicated that some anatomical features of sugarcane leaf responded to drought stress. Almost all the anatomical characteristics of unstressed treatments showed higher values than stressed treatments. A total of 21 out of the 40 characteristics showed a significant difference. Leaf thickness, stomatal size and interstomatal adaxial epidermal cell size of treated plants decreased while cuticle thickness of adaxial lamina and stomatal density significantly increased. This is the first report detailing leaf anatomy response to drought stress conditions in Thailand of sugarcane (S. officinarum 'KK3'). Results will provide useful basic knowledge for a better understanding of the adaptation mechanisms of tolerant sugarcane genotypes under early drought stress conditions.
Downloads
Download data is not yet available.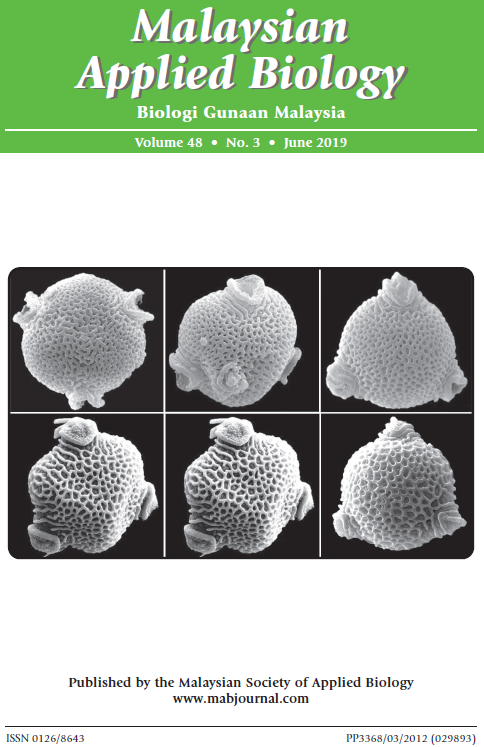 How to Cite
TARATIMA1, W., RITMAHA1, T. ., JONGRUNGKLANG2, N. ., RASO, S. ., & MANEERATTANARUNGROJ4, P. . (2019). LEAF ANATOMICAL RESPONSES TO DROUGHT STRESS CONDITION IN HYBRID SUGARCANE LEAF (Saccharum officinarum 'KK3'). Malaysian Applied Biology, 48(3), 181–188. Retrieved from https://jms.mabjournal.com/index.php/mab/article/view/1852
Section
Research Articles
Copyright & Licensing
Any reproduction of figures, tables and illustrations must obtain written permission from the Chief Editor (wicki@ukm.edu.my). No part of the journal may be reproduced without the editor's permission