INFLUENCE OF CHITOSAN NANOPARTICLES ON CELLULOSE ACETATE FILM FROM DURIAN RIND
Keywords:
Cellulose acetate, chitosan nanoparticles, ionic gelation, nanocomposite film
Abstract
Cellulose acetate (CA) from durian rind and Chitosan nanoparticles (CSNPs) films were prepared in this study. The synthesis of CA from durian rind in a rapid process by a transesterification reaction. The structure of CA was characterized by FTIR. CSNPs were prepared by ionic gelation method with different concentrations of sodium tripolyphosphate (TPP). The particle size gradually decrease significantly when TPP concentration increases from 0.3% to 0.6%. The influence of the CSNPs on CA films was determined by measuring the tensile strength, whereby increases in the tensile strength and load at break were seen, with values of 4.38 ± 0.20 N/mm2 and 21.29 ± 0.98 N/mm2, respectively. At the optimum ratio of 0.975/0.025 (CA/ CSNPs) the particle size was 338 nm. Therefore, the influence of the CSNPs in the CA film could be explained, whereby increasing the size of the CSNPs, the adhesion is increased through the highly agglomerated fillers, which will be strongly bonded within the matrix. The CA/CSNPs films which could be reduce agricultural waste and increase the values. In the future, these nanocomposite films can be developed in the membrane to use wastewater treatment.
Downloads
Download data is not yet available.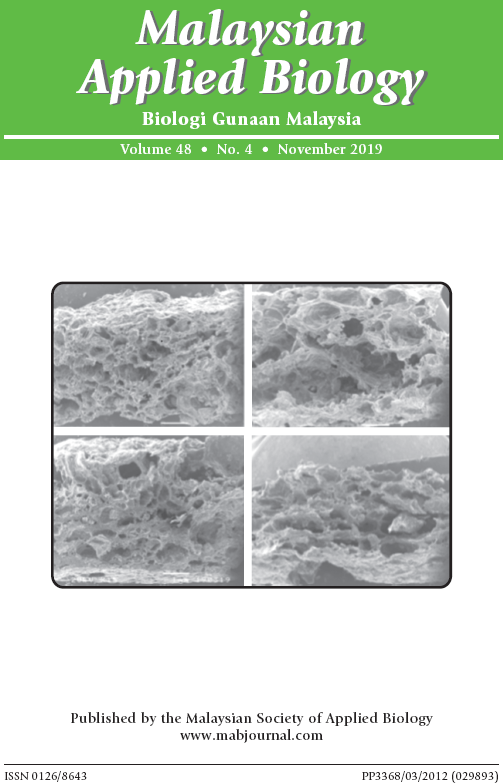 How to Cite
KUDISRI, R., & UAN-ON, T. (2019). INFLUENCE OF CHITOSAN NANOPARTICLES ON CELLULOSE ACETATE FILM FROM DURIAN RIND. Malaysian Applied Biology, 48(4), 69–74. Retrieved from https://jms.mabjournal.com/index.php/mab/article/view/1879
Section
Research Articles
Copyright & Licensing
Any reproduction of figures, tables and illustrations must obtain written permission from the Chief Editor (wicki@ukm.edu.my). No part of the journal may be reproduced without the editor's permission