GLYCAEMIC INDEX, PALATABILITY, ACCEPTABILITY AND PERCEIVED SATIETY OF COOKIES PREPARED WITH DURIAN (Durio Zibethinus Murr.) AND -GLUCAN
Keywords:
Glycaemic index, acceptability, palatability, satiety, durian, β-glucan
Abstract
Durian is rich in macronutrients and bioactive compounds. b-glucan is a soluble fibre and has the ability to increase perceived satiety and reduce glycaemic response. Hence, durian and b-glucan can be used for the development of functional foods. The aim of this study was to determine the effects of cookies prepared with durian and b-glucan on glycaemic index, acceptability, palatability and perceived satiety. Ten healthy participants with normal BMI completed four trials with a 3-day washout period. Foods were given to the subject after an overnight fast. Blood was sampled at fasting (0 min, baseline) and 120 min after food consumption and assayed for glucose concentration. Acceptability, perceived satiety and palatability were assessed using visual analogue scale. There were no significant differences for acceptability and palatability between control and test cookies. Cookies prepared with durian and/or b-glucan significantly (p < 0.05) increased perceived satiety except for thirstiness and pleasantness compared with control cookies. Durian and b-glucan cookies showed lower glycaemic index compared with other biscuits with 59.4 (14.63). This study suggests that cookies prepared with durian and b-glucan is acceptable and has the potential to reduce GI compared with control. A combination of durian and b-glucan in cookies shows promising health benefits and could be used for the development of functional foods.
Downloads
Download data is not yet available.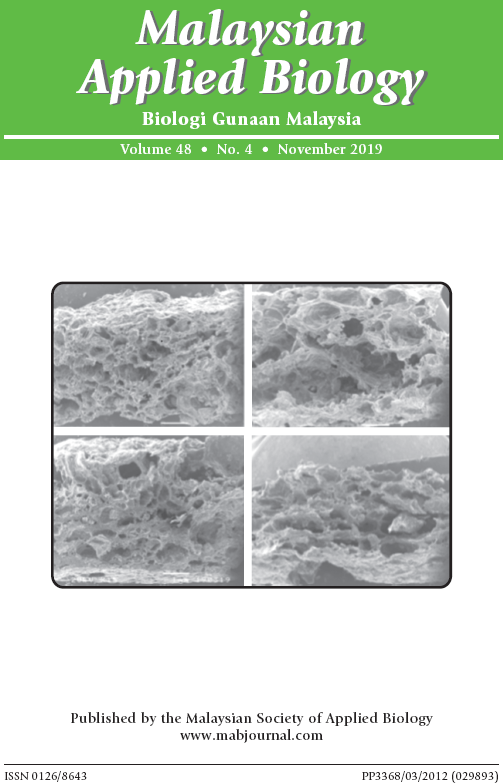 How to Cite
SUPPARMANIAM, H. ., HUSSIN, N., & MHD JALIL, A. M. (2019). GLYCAEMIC INDEX, PALATABILITY, ACCEPTABILITY AND PERCEIVED SATIETY OF COOKIES PREPARED WITH DURIAN (Durio Zibethinus Murr.) AND -GLUCAN. Malaysian Applied Biology, 48(4), 89–99. Retrieved from https://jms.mabjournal.com/index.php/mab/article/view/1882
Section
Research Articles
Copyright & Licensing
Any reproduction of figures, tables and illustrations must obtain written permission from the Chief Editor (wicki@ukm.edu.my). No part of the journal may be reproduced without the editor's permission