LEB MUE NANG BANANA BARS WITH PROTEIN SUPPLEMENTS FROM SOYBEAN MEAL: NUTRITIONAL AND SENSORIAL QUALITY
Keywords:
Fruit bars, Leb Mue Nang banana, soybean meal
Abstract
The objective of this study was to design a value-added product utilizing food industry by-products, specifically dried Leb Mue Nang banana and soybean meal. Five alternative formulations of a fruit bar with different ratios of dehydrated Leb Mue Nang banana and soybean meal (70:30, 60:40, 50:50, 40:60 and 30:70) were compared. The final recipe was judged by 50 panellists using the 9-point hedonic scale. The product was evaluated for chemical properties (carbohydrate, protein, fat, ash and total energy), physical properties (water activity, moisture and texture), consumer acceptance, and quality during storage for three months. The results show that dried Leb Mue Nang banana could be used for up to 45% and soybean meal as protein supplement could contribute up to 30%. The developed product is a good source of carbohydrate (70.51%) and protein (12.97%), giving 189.5 kcal/serving (50 g). The overall product acceptance score from 100 consumers was 7.9/9, indicating high potential for commercial application. The fruit bars were well accepted with desirable sensory quality and met microbiology standards for up to three months of storage in ambient conditions.
Downloads
Download data is not yet available.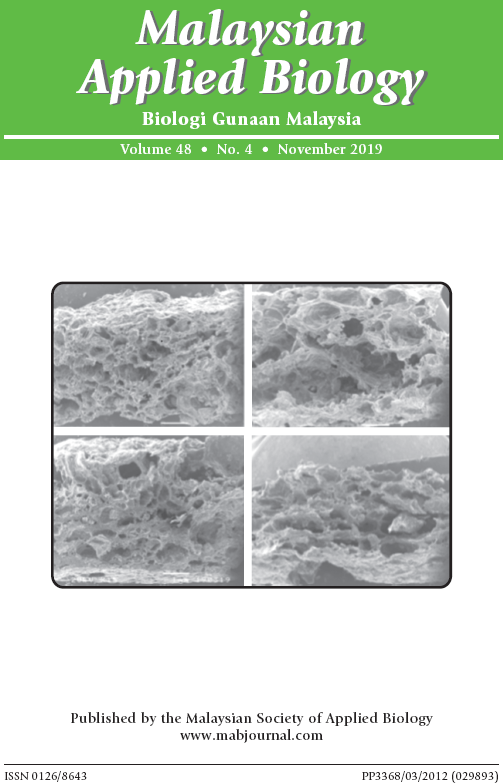 How to Cite
TECHAKANON, C. ., & TANGRUJIWATANACHAI, S. (2019). LEB MUE NANG BANANA BARS WITH PROTEIN SUPPLEMENTS FROM SOYBEAN MEAL: NUTRITIONAL AND SENSORIAL QUALITY. Malaysian Applied Biology, 48(4), 101–106. Retrieved from https://jms.mabjournal.com/index.php/mab/article/view/1883
Section
Research Articles
Copyright & Licensing
Any reproduction of figures, tables and illustrations must obtain written permission from the Chief Editor (wicki@ukm.edu.my). No part of the journal may be reproduced without the editor's permission