IN VITRO ALPHA-GLUCOSIDASE AND ALPHA-AMYLASE ENZYME-INHIBITED ACTIVITIES BY WATER-LILY (Nymphaea genus) EXTRACTS
Keywords:
Water-lily, Nymphaeaceae, anti-diabetic, free radical scavenging
Abstract
Chalong Kwan (C), Khao Mongkol (K) and Chompoo Mameaw (P) are the water-lily in the family of Nymphaeaceae which were planted in Thailand. In this study, leaves (1), flowers (2), tuber (3), pollen (4), branches (5) of the three water-lily were boiled with distilled water (W) and macerated on 95% ethanol (E). The extracts from water-lily including C3-E, P1-E, P3-E, C1-W, P1-W, P3-W, and P5-W were showed the highest level of free radical scavenging activities measured by (DPPH) assay (SC50 range of 0.003-0.007), which is more than L-ascorbic acid (SC50 of 0.013 ± 0.0001 mg/mL) about four times. The effect of anti-diabetic was determined inhibitory activities of a-glucosidase and a-amylase by enzymatic assay. P4-E extract was the highest exhibited the a-amylase activities (AC50 of 0.02 ± 0.001 mg/mL) with higher than acarbose for ten times (AC50 of 0.23 ± 0.14 mg/mL). Whereas, the C2-E, C3-E, and C1-W extracts inhibited the activity of a-glucosidase (GC50 range of 0.08-0.11), which higher than acarbose for 6 times (GC50 of 0.63 ± 0.04 mg/mL). The ethanol extracts from Chompoo Mameaw (P1-E and P3-E) which demonstrated the highest antioxidant and anti-diabetic activity, might be possible for further development to natural products for diabetic patients.
Downloads
Download data is not yet available.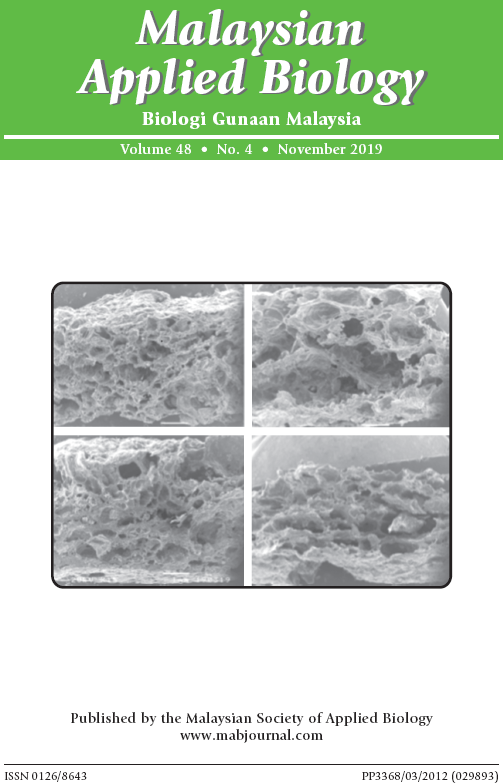 How to Cite
BOONPISUTTINANT, K. ., WINITCHAI, S. ., AKKARAKULTRON, P. ., & UDOMPONG1, S. (2019). IN VITRO ALPHA-GLUCOSIDASE AND ALPHA-AMYLASE ENZYME-INHIBITED ACTIVITIES BY WATER-LILY (Nymphaea genus) EXTRACTS. Malaysian Applied Biology, 48(4), 121–127. Retrieved from https://jms.mabjournal.com/index.php/mab/article/view/1886
Section
Research Articles
Copyright & Licensing
Any reproduction of figures, tables and illustrations must obtain written permission from the Chief Editor (wicki@ukm.edu.my). No part of the journal may be reproduced without the editor's permission