SINGLE AND MIXED LACTIC ACID BACTERIA CULTURE FERMENTATION IN RED BEAN MILK FOR DEVELOPMENT OF A FUNCTIONAL BEVERAGE
Keywords:
Antioxidant activities, lactic acid bacteria, mixed culture fermentation, red bean, total phenolic content
Abstract
This study was to evaluate the effect of fermentation on the total phenolic contents (TPCs) and antioxidant activities (AA) in red bean milk (RBM) using three different lactic acid bacteria (LAB); Streptococcus thermophilus TISTR 894 (ST), Lactobacillus plantarum 299V (LP), and Lactobacillus casei 388 (LC), as a single (SCF) or a mixed culture fermentation (MCF). The fermentation increased TPCs value and AA values in the RBM, irrespective of fermentation technique or LAB cultures. Among SCF, the SCF-LP showed the highest values of TPCs, DPPH, and FRAP while SCF-LC had the highest ORAC assay values. The MCF could lead to higher TPCs and AA than those of SCF. Especially, MCF using three cultures of LAB presented the highest TPCs, DPPH, and FRAP assay (1.47 mg GAE/g DW, 11.59 µmole TE/g DW, and 4.89 µmole TE/g DW, respectively). Moreover, the study showed that the MCF can effectively improve the TPCs and AA, thereby indicating additional health benefits of fermentation.
Downloads
Download data is not yet available.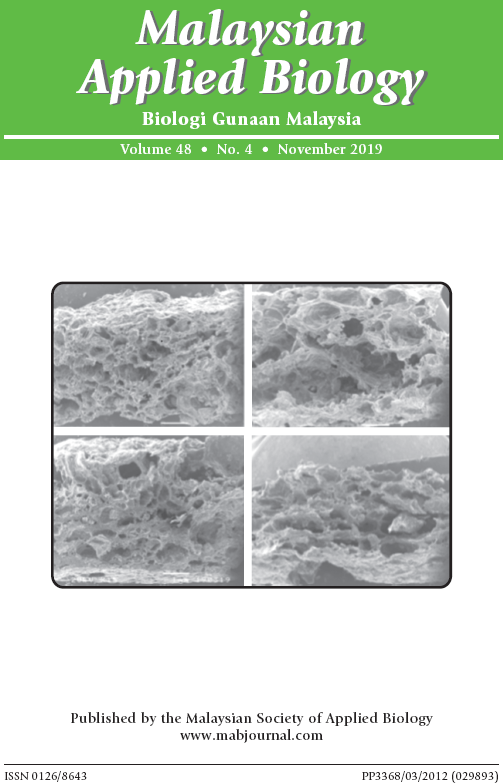 How to Cite
NAPRASERT, J. ., SUTTISANSANEE , U. ., & KEMSAWASD, V. (2019). SINGLE AND MIXED LACTIC ACID BACTERIA CULTURE FERMENTATION IN RED BEAN MILK FOR DEVELOPMENT OF A FUNCTIONAL BEVERAGE. Malaysian Applied Biology, 48(4), 139–145. Retrieved from https://jms.mabjournal.com/index.php/mab/article/view/1888
Section
Research Articles
Copyright & Licensing
Any reproduction of figures, tables and illustrations must obtain written permission from the Chief Editor (wicki@ukm.edu.my). No part of the journal may be reproduced without the editor's permission